Leggett & Platt, a global brand that produces technology, sustains its rapid growth at home and abroad.
Spring systems designed for mattress sector have been undergoing rapid transformation. Ali Anıl, Sales Manager, Leggett& Platt who focused on the Next Generation Innersprings, said, "In 2017, we predicted that Turkey and its region would be a major mattress production base. Our goal was realized thanks to our valuable partners. Our industry will catch a very rapid growth trend over the next 5 years." We have recently interviewed Ali Anıl, Sales Manager, Leggett& Platt.
You have displayed the Next Generation Innersprings Project at SleepWell Expo. How do you define Next Generation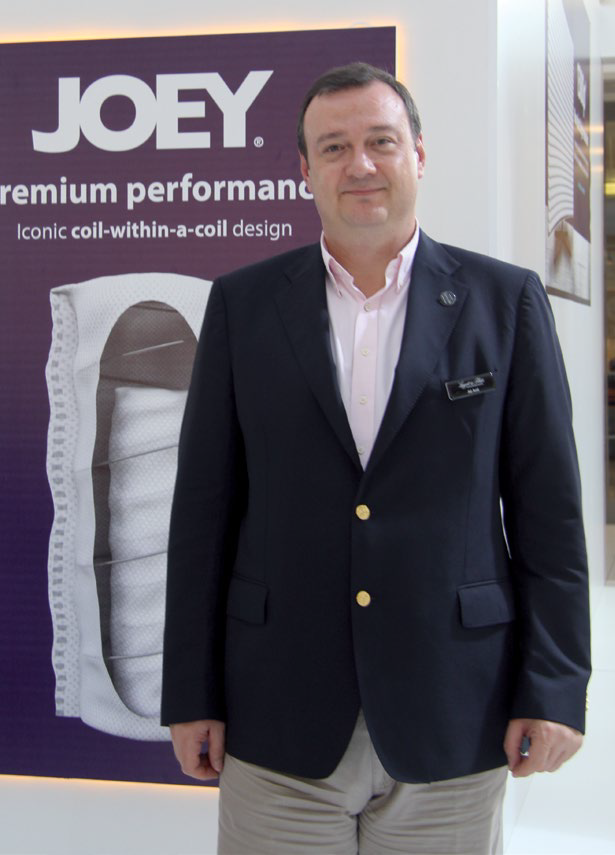 Innersprings?
World technology is changing very fast, many products and technology that are not in our life ten years ago are among us, as indispensable items.
Now everything is designed for comfort-oriented operations. For this reason, engineering and design are at the forefront more than ever. As Leggett & Platt, we introduced 'Next Generation Innersprings' project to Turkey and the region during SleepWell Expo, in line with the strategy we launched in 2014. The Next Generation Innersprings provides a simpler but more functional, measurably better comfort. For example, Vertinova; it occupies more surface area than existing open spring systems due to the its 36% more springs in number, compared to the others. All new generation spring technologies are lighter but offer more support and comfort. Besides, the improved spring geometry allows us to use the term High Resolution. All new generation technologies are also respectful to the nature. We have Oeko-Tex 100 certificate and TUV LGA certification which is now a standard for Leggett.
You have turned out to be a pioneer company in your area of specialization. How do you interpret the changing mattress and innerspring trends in the world?
As known, Leggett & Platt is a global company, with many manufacturing facilities throughout the continent. With this in mind, we do not just keep track of all the developments in the world market, but we are also utilizing from these developments together with the companies we work with. Product quality has become a major standard now, consumer wants to get more information faster. Nowadays, poor quality products are disappearing in the market immediately. The most important change, on the other hand, is to provide value, and no brands and producers that can not produce
value in the market can be permanent. As Leggett & Platt, operating under the principles of "Comfort, Support, Performance and Durability" fully describes the changing mattress and spring trends in the world.
How do you evaluate 2017 in general? What were the goals you set for the year?
Leggett & Platt is growing with multiplier effect since 2014, since it was active in Turkey. We are operating in one of the fastest growing markets in the world for Leggett. The growth we have achieved is due to our business partners who are dynamic and who have a very good infrastructure. In 2017, we predicted that Turkey and the region will be the mattress production base. Our goal is realized thanks to our valuable partners. Our industr  will catch a very fast growth trend over the next 5 years.
To which markets do you export?
The Leggett sales office in Turkey serves a wide range of markets, from Turkey to the markets such as North East Asian region the Middle East, the Arabian Peninsula, Kazakhstan, Armenia, Georgia, Kyrgyzstan, Pakistan and India.
Are there any hardships you have experienced at the export markets?
There is only one answer to this problem; the problems will always exist and they will make us better.
Finally, what do you want to add?
Leggett & Platt is operating under the motto of "Keep Calm and Add Value" all over the world. This message applies to all activities, including all of our competitors, in order to expand the market. Sector growth and development on the right track will be beneficial for all producers. We are very happy to see that this message has also been adopted by our valuable competitors in recent years.
#leggettplatt, #AliAnil, #interview, #project