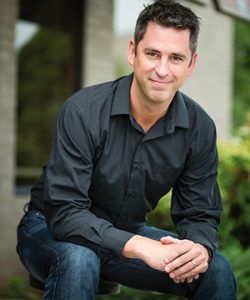 Alexium International, a company which continues to make progress in the textiles industry with sales trending sharply upward and recently made its first shipment of Alexicool(TM) to the largest producer of mattress fabrics, has also been ramping up production on pillows, following their partnership with Pegasus Home Fashions. Sleep Tech magazine has recently conducted an exclusive interview with Dr. Dirk Van Hyning, CEO of Alexium International. Full text of the talk follows:
Q:  Briefly, tell us a bit about Alexium International and how the company became involved in the bedding market. Why is the bedding industry of such great interest to you?
About two years ago, at a trade show, Alexium was approached by a major brand in need of a new flame-retardant (FR) technology. At the time, they were using a non-durable, commodity FR and the industry is moving much more toward removable, washable components of the mattress. As a result, this brand had been unsuccessfully seeking a 20-home-laundering durable solution, which Alexium was able to provide. However, during the process of integrating our product, we made several observations: first, that the vast majority of chemistry dollars being spent on a mattress was not FR, but for PCM technology to make the mattress (especially memory foam mattresses) feel cooler.  Secondly, the fabric producers for the bedding industry are trying to successfully blend upwards of 10 different components, none of which are necessarily designed to be compatible. So there existed a clear market need that we felt we could address, and we developed our Alexicool™ product, which is a combination of five different performance chemistries, including PCM and FR. We have a strong interest in bedding because the combination of the sheer size of the mattress chemical market and the fact that due to the low density of bedding products and high shipping cost, the supply of the US mattress market is very resistant to moving overseas.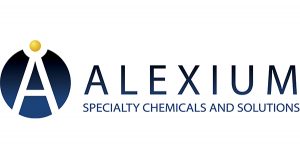 Q: What hazards are posed by the chemicals traditionally used in bedding?
Most existing fillings and textile materials used in this industry are flammable and prone to dirt and dye transfer. Finishing agents from mattresses, bed sheets and other bed covers can include plasticizers, halogenated or nondurable flame retardants, and isocyanates, which can be harmful to people's health. In addition, the phase change material (heat absorbing) chemistries typically on the market are relatively high in free formaldehyde, which is notably toxic. Fortunately, products developed by Alexium have enabled bedding products that promote fire protection and enable cooling without attendant risk. Products and processes can be designed to meet exacting requirements for safety and environmental sustainability, often exceeding industry standards.
Q: Why has it been so difficult to develop a flame retardant product that also can absorb heat? What advantages does Alexium have that have enabled the company to develop Alexicool™?
Our Alexicool™ product is actually a blend of several different materials, two of the components being separate flame retardant and thermal regulation materials. Due to a combination of novel synthetic methods and solid customer input leading to product design, the feedback we have gotten from the industry is that our products are cooler, more durable and feel better on the mattress (not waxy or stiff), at a much lower price point, and we make it effortless for the fabric producers to incorporate our products.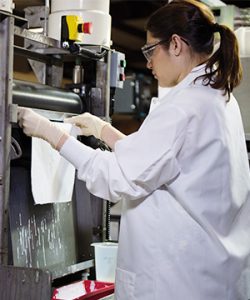 Q: What products have you developed specifically for use in bedding materials?
We first entered the bedding sector with our initial flame-retardant product, Alexiflam™. More recently, we developed Alexicool™, a cost-effective chemical finish for fabrics that absorbs heat while providing a cool-to-the-touch feel. A wash-durable application of phase-change material with a high heat capacity, it is designed for bedding (and apparel fabrics) for improved comfort. It is TSCA (Toxic Substances Control Act) registered in the United States and REACH (Registration, Evaluation, Authorisation and Restriction of Chemicals) pre-registered with the European Commission. It ensures minimal disruption to the characteristics of the original product, such as durability and softness.
Q: What is the current status of commercialization of Alexicool™?
Our sales into the mattress industry continue to trend sharply upward as orders of Alexicool™ to mattress fabric producers in June 2017 exceeded revenues in May and was our eighth consecutive record month of sales. Shipments of Alexicool™ chemistry—which includes both fire-retardant and thermal regulation phase change materials components—for June exceeded 90,000 kg, which represents an eightfold increase over our monthly shipments in January 2017. In addition, in June 2017, we made our first shipment of Alexicool™ to the single largest producer of mattress fabrics in the world, which we expect to drive continued sharp increases in sales.
Q: What other developments have you experienced in the industry?
At the start of 2017, we announced a new partnership with Pegasus Home Fashions as our first step in addressing the thermal regulation needs of the pillow market. As we announced publicly in June, Pegasus is facilitating a full-scale manufacturing rollout of Alexicool™ onto a wide range of production fabrics to be made into pillows to meet customer orders. With more than 200 manufacturing, distribution and retail customers in 33 countries, this particular partner's plant in Shanghai serves as an ideal hub for global customers to collaborate with Alexium on innovative solutions. In addition to helping us address a pillow market that sells in excess of 100 million units annually, this partnership yields the opportunity for Alexium to provide innovative technology solutions for other end products.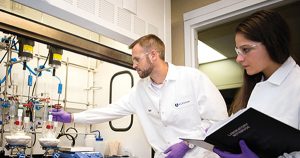 Q: How do you market/sell to the bedding industry? How do you work with your bedding industry customers to develop specific products for their needs?
Our customers are the companies that knit, pattern and chemically finish the fabrics that go into the top (ticking) and sides (border) of the mattress. It's a fairly consolidated group of companies that supply to all of the mattress brands and they are the ones that are fueling our growth because they are the suppliers to the mattress industry that are all trying to increase market share. We have very little interaction with the end brands. Thus far, our significant growth in the mattress industry has taken place with extremely little customization, but if a customer has a particular need or customization request, that's something we do very well.
Q: Have you noticed that consumers are starting to pay more attention to and demand higher quality in their bedding options?
One hundred percent yes. While we don't have direct interaction with the consumer base, it is an overwhelming trend our customers are communicating to us. The connection between poor sleep and poor health, along with an aging baby boomer population, are leading people to spend more on mattresses and demand better features.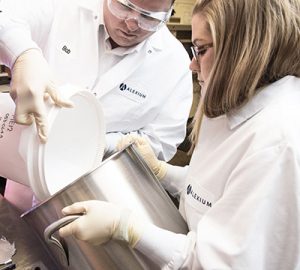 Q: Are there any other of your products that you believe could be adapted to the bedding industry?
 I would say that we are absolutely not done with our offerings to the bedding industry. I anticipate we will offer new chemistries that provide new performance enhancements, and our more immediate expansion will be into other areas of the mattress such as the foam and into adjacent bedding products, such as pillows (which we are already doing), mattress toppers, duvet covers, etc.
Q: In your opinion, who is driving innovation in the industry, consumers or bedding manufacturers driving innovations in the industry?
 I believe bedding consumers are determining desired product attributes (which is pretty typical in any industry).  The brands are seeking solutions from their component suppliers and the component suppliers are either developing the innovation or incorporating the innovative material into their products. The latter is the case where the mattress fabric producers are sourcing innovative chemical solutions from Alexium.
#guncel