An internationally acknowledged domestic mattress machine manufacturer, Elektroteks booms in export markets having 50 percent share in the production of mattresses in the world that are made by the machines of more than 160 kinds. 
Osman Guler, chairman of the company informed us about his firm, activities and export figures. He underlined the importance of supplying complete sets of machinery from A to Z to mattress manufacturers in the world. He said, "We launch 2 to 3 new machinery each month.
"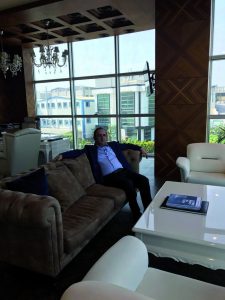 "Surveys that we carried out on our customers have revealed that half of the mattresses in the world are produced on the machinery that we sold. Thanks to our expertness in the sector, now we are able to build machinery that is controlled by smart phone and visually on management and control screens. Products that are made in our machinery can be labelled individually having RFL tags that are used to follow the delivery of the product to certain customers. The mattresses are automatically stored on pallets thanks to this technology. We are pioneers of new applications and solutions in mattress manufacturing."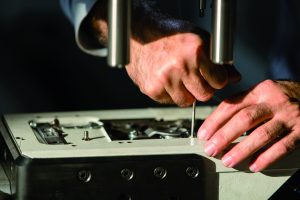 "We do our job with love and want to carry Turkey to the top the chart"
Out of 150 people working in the company are engineers. Guler says, "The main reason behind our success is that we love our job. We develop at least 3 to 40 new products each month thanks to these experienced staff. 180 different materials are used in the production. Software for the machinery are written by myself and by my son. We put our love and national pride in our business so we are becoming successful. Our factory was of 2,500 sqm three years before, now we have a facility of 14,000 sqm. We invested 6 million on the machinery park and will invest about 10 million in 2019."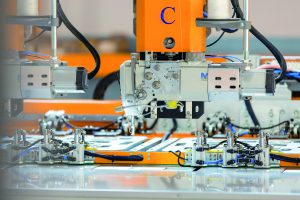 "Our motto is to earn the hearts before earning money."
"We have been offering automation services to the textile industry for 20 years. When others are running after profits from customers, we have been considering how we can earn their hearts. There are rivals though we always try to be in dialog with all the partners, people and competition. We have great vision for the future. Presently, we are at a good position in the world. We work hard to carry up Turkey to higher positions in the mattress industry."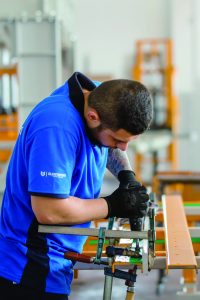 "Elektroteks exports almost to all countries in the world"
Elektroteks sells its products to more than 150 countries. The only exception was Japan. At the end of fruitful talks with the suppliers in this country several contracts were signed to sell in this country as well. 40 percent of exports goes to US market. The firm has established three facilities in America and has branches in China and one in Bulgaria. Sales in export markets are almost doubling year after year.
Osman Guler said about Interzum Guangzhou fair, "We keep our expansion plans running in several parts of the world especially in Europe. We have been participating in Interzum fair held in China for six years. We have enough capacity and capability to compete with and to sell them our machinery to China. This year we will engage other activities out of fair events in China in order to get to know more deeply the market. We also expanded our stand in the fair and we exhibit our new products in the fair."