* In addition to bedding technology that develops day-by-day, sleep monitoring technology products with effective use are also developing. An ideal sleep is not a dream anymore…
As we spend a third of our lives sleeping and this is a great mystery, the attractiveness of sleep monitoring devices having many advanced features is growing.
Some features of sleep monitoring devices have already been integrated into the bedding industry.
Sleep tracking devices that evolve along with embedded intelligent sensors can also be an inspiration to bedding technology.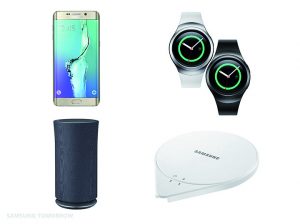 The SleepSense sleep sensor will also turn off the light you forgot.
SleepSense is a sensor designed to improve the quality of sleeping and communicate with other devices in the house. It is attached to the side of the bed and analyzes the sleep state from 7 different perspectives (sleeper time, movements, sleep depth, etc.). SleepSense also has several recommendations for increasing sleep quality.
The product that communicates with SmartThings sensors to different domestic devices and devices can perform tasks such as turning off the TV and lights when you are sleeping. There is no obstacle in front of it to perform additional functions depending on the sleep state (to control the heating / ventilation system).
Developing a device that is more efficient than smart phone applications and smart wristbands, Samsung has also worked with Christos Mantzoros at Harvard University to showcase a serious product.
To sleep with SleepSense, each person in the bed needs to have a special sensor, and the 'family care' mode allows you to follow the sleep schedule of another family member via e-mail.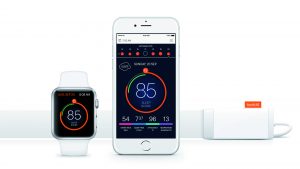 Your new sleep coach Beddit
Beddit 3 Sleep Monitor, which detects sleep quality, pulse, breathing, movements during sleep, room temperature, room humidity and even snoring, provides detailed statistics by sending the information to mobile phone or tablet application. Based on these data, the product can also acts as a coach for sleeping person.
In May 2017, Finnish-based health technology company Beddit, acquired by Apple, is expected to integrate better with the current Apple Healthcare software.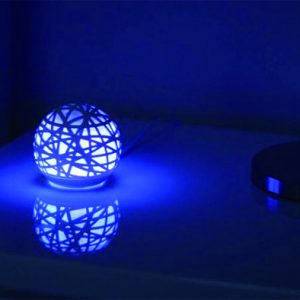 The sensor with the most stylish design; 'Hello Sense with Voice Sleep System'
 Sense, with a stylish design, holds your sleep statistics from the bedside table. Sleep monitoring brings a unique approach to home sleep monitoring technology with environmental sensors, intelligent alarm and sound machine.
Various soft sounds can be programmed to help you sleep, as well as to awaken you during sleep. It offers some measures and recommendations for bedroom temperature, humidity, ambient light, noise and air quality. It measures sleep durations, sleeping time, wakefulness, restless hours, and the time spent in deep, medium and light sleep.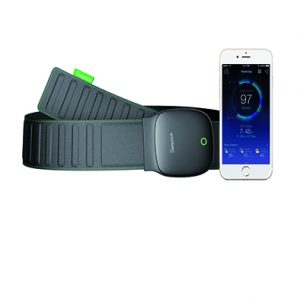 Rate your sleep with Sleepace Reston
Reston, a product with comparable sensitivity to medical devices, is placed just below the chest area. Sensors are provided with advanced sensitivity and extra wide domain pioneer algorithms. In addition to monitoring real-time heart rate and breathing rate, RestOn is analyzed for a comprehensive score of sleep, duration of sleep, how many times to wake or turn, and distance to walk away and respiration rate to determine your true sleep quality.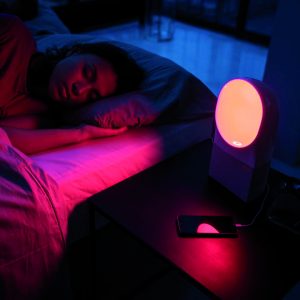 Color your sleeps with Withings Aura
Monitoring your sleep is one thing, but actively improving your time in bed is a whole other ballgame. Plenty of activity trackers and sleep systems track how quickly you fall asleep, when you roll over in the night, and how many hours you sleep, but they leave it to you to make changes that will help you get to sleep quicker and wake up feeling more refreshed.
Withings Aura, a new sleep system, makes decent inroads at changing that setup.
Dedicated Sleep and Wake-up Programs: When it is time to fall asleep, Aura uses certain red wavelengths that favor the secretion of melatonin in your body, consequently easing the onset of sleep. When it is time to wake-up, Aura gradually lights up with well-defined blue wavelengths that inhibit the secretion of Melatonin, contributing to a smooth wake-up.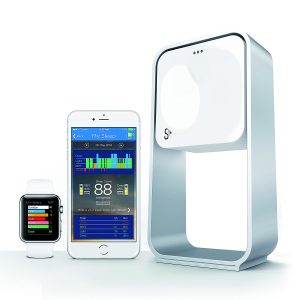 S+ by ResMed has offers for improving your sleep habits
The S+ by ResMed is the world's first non-contact sleep tracking system that helps you analyze and improve your sleep from the very first night.
S+ by ResMed records the light, noise and temperature conditions in your room, and has features to help you sleep more easily. It syncs with your smartphone to provide tailored feedback and suggestions on how to improve your sleep routine and sleep conditions in your bedroom.
S+ by ResMed works by detecting the movement of your upper body while you sleep. The movement it detects consists of the expansion and relaxation of your chest as you breathe in and out, and overall body movements such as positional changes, arm twitches and shrugs.
It includes software algorithms that recognize the combination of respiration and body-movement signals, so that the overall sleep state can be reliably assessed. For example, if you're moving continuously, you're less likely to be asleep. Conversely, if you're in deep sleep, there will be relatively little movement and your breathing will be much more regular.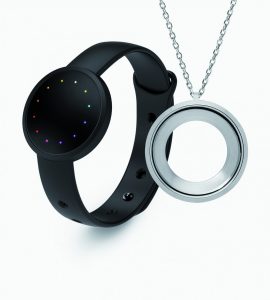 Wearable technology in pursuit of sleep
* Smart wristbands with stylish designs were also developed to learn the unknowns of the human body. In addition to collecting sleeping data, bracelets with many smart features add to the preferences of the consumer.
There are many brands of smart wristbands that are produced by many brands. It is often possible to say that options for health, fitness and sleeping are available on every device, but each is focused on a major option, specifically.
Everything you want to know about your sleep is in your wrist!
Misfit Shine 2 draws attention of buyers with its long life, and it also has a stylish design. With a battery life of 6 months, the need for frequent battery charge and battery troubles are getting out of hand. The device, using Bluetooth connection does not need to be permanently connected to your phone, it transfers the data you have stored in its memory to your phone when you connect. The device reports the REM cycle as well as the information about how many hours of you are relaxing at night, and how many hours you are sleeping lightly.
In the morning it is possible to wake up more energetically!
Jawbone UP, which stores durations of light sleep and deep sleep, has the intelligent alarm feature to wake up when it is the lightest to sleep. You can easily reach your sleeping data that shows your habits.
Additionally, the device has smart features such as counting steps and measuring heart rate. The device has a charge life of 10 days.
#guncel