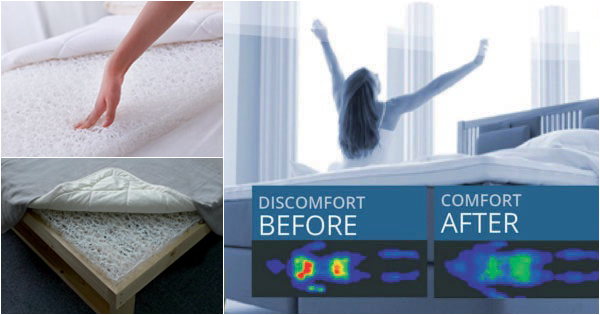 Allbeco completing your sales, marketing and supply power with its wide production and supply network by combining the knowledge of mattress sector, can supply mattress components you need just in time, in the right way and the right price.
The company offers the right opportunities about the development of innovative products, supply and service with its represented companies and wide network. It helps your customers pick the appropriate mattress for them with one of the biggest trends of the 2016 Body Pressure Mapping system (BodiTrak). The system allows users to have the most suitable mattress through the body pressure map thanks to pressure which users apply on sensors. All you need to lay system on one of the mattresses and ask users to daily sleeping movements again. The system will let you know information that you want to offer to your customers within seconds.
It's that easy to introduce the most appropriate mattress for your customers, developing produce and improve marketing network. "The demand of breathable and natural products used health-minded mattress every day increasing gradually. We are happy to present to you needed natural components and breathable products," says an official of Allbeco. Allbeco offers you to use your product and get easily such products like the coolness of cotton, thermal comfort effect of wool, incredible natural comfort of horsehair, the natural antibacterial and comfort effect of coco (pads made from coconut fiber). The effect quick drying and not affected by moisture of camel hair, and of course the Latex foam containing natural rubber. "We can provide 2016's other trends like box spring, bed sets, complete set of bed with a concept, pillow, blankets, bedspreads, adjustable bed frames, motors, for the ticking, the innovative and specialty fabrics.
Moreover, designs are small and colors are light with rich background. In addition, Allbeco offers standard materials like mattress label, zipper, foam adhesive, edge taper, wire-spring, foam, spun bonded nonwoven, felt, and mechanism" the official added.
#Allbeco, #BodiTrak, #MattressSector, #MattressComponents, #MattressLabel, #Zipper, #foamAdhesive, #EdgeTaper, #WireSpring, #Foam, #SpunBondedNonwoven, #Felt, #Mechanism