Hedef Sünger, one of the young companies of the sponge sector, aims to have a say in the sector and contribute to the production economy with its dynamic structure and experienced staff.
Mehmet SETENCI, General Manager of Hedef Sünger, in his interview for the January issue of our magazine, answered the questions from production technology to export policies, from domestic market target to innovation. SETENCI, stating that their company is new in the sector, expressed that they are trying to gain experience by following the veteran sector representatives and that they aim to produce innovative products with their dynamic staff.
Can you mention the establishment story of your company?
Our company's board of directors, as a result of more than 10 years of experience in the sector, has made its first goal to be beneficial to the country, such as contributing to employment and making value-added production. It was decided to establish the business as a Sponge cutting place first, and then a serious demand for other products was encountered from the companies in the sector. Therefore, it also starts and has been continuing its sales of its own brand Kaybond adhesive and Helis Mattress Fabrics of which it is the authorized dealer and other raw materials such as mattress wick, felt, fiber, granular sponge, air capsule etc by focusing on meeting the demands of the stakeholders correctly. As Hedef Sünger, we attach great importance to recycling for a livable future. Hedef Sünger Yatak ve Mobilya Malzemeleri San Tic. Ltd. Şti operates in Kayseri Organized Industrial Zone, 30 Street, No: 9.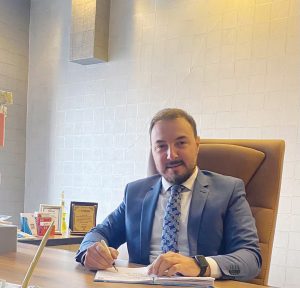 What kind of way do you follow on production technology?
We aim to produce more efficiently and more regularly with simple production models (5s – kaizen). In this regard, we are advancing with our continuous quality-oriented production strategy by training and restructuring both our company and our personnel.
What kind of work do you do on innovation?
We are trying to participate in most of the fairs in the sector, we are following many sector representatives known veterans and we are reading all the articles about the sector. We evaluate the innovations we see, correct them if we have deficiencies or mistakes, and take care to evaluate and process innovative ideas that we do not have within our own structure as much as possible.
How many countries do you export to at the moment? Can you mention your export policies?
Since our company is new, we can't focus much on export, but our first and most important target for 2022 will be export. We have set ourselves a mission to bring foreign currency to our country by traveling abroad in order to increase exports, and we will proceed in this direction.
What are your domestic market targets in 2022?
We are targeting to gain awareness by all domestic mattress manufacturers and to increase our trade volume. We aim to both benefit our country's economy and grow together with our stakeholders.
Finally, how do you see the current situation in the mattress sector in Turkey?
The mattress sector is currently developing in the world; it is a starving for production and open sector. This makes an opportunity for both the manufacturer and the supplier; Turkey only has a 3.5% share in the world's furniture exports, and we have serious beliefs in contributing to new and beautiful markets and exports, both with the support of our state and focusing on exports. As Hedef Sünger, we are in this sector and your target is here.