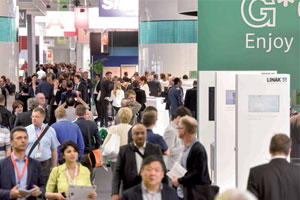 1,561 exhibitors coming from 57 countries, 57,500 visitors from 143 countries and more than 163.000 sqm gross exhibition space – those are the record figures confirm
In 2015 interzum once again lived up to its reputation as a trade fair of innovations to provide inspiration to the industry with the trends displayed. Exhibitors inspired their visitors as much with global product launches as with trend-setting equipment and materials for common as well as unusual purposes. The fair closed on 8 May 2015 with excellent results. More than 57,500 industry visitors from 143 countries (an increase of 8.5 percent) made for an outstanding atmosphere at the exhibitor stands over the four days of the fair. This is extremely rewarding in light of the Germany-wide train strike which was ongoing for the entire duration of the fair. At very short notice, Koelnmesse organized a shuttle service from Frankfurt and Düsseldorf airports as well as from the East Westphalia furniture region. The service was very well received and ensured convenient transport for visitors to Cologne. "The increase in visitors did not just reflect the appeal of the innovations and solutions showcased by our exhibitors but also emphasizes the importance of interzum for the industry. There is no other event in the world which generates as much important momentum for this industry, in terms of both innovations presented and actual business conducted, as interzum does," said Katharina C. Hamma, Chief Operating Officer of Koelnmesse, in summary. interzum thus seamlessly ties in with the outstanding results of ORGATEC, imm cologne and LivingKitchen and Koelnmesse underlines its position as the leading exhibition location worldwide for furniture and interior design.
With 41,000 visitors from abroad (an increase of 17 percent), interzum 2015 was once again a very international event. For one,there was a significant increase in visitors from Europe, from Italy in particular, as well in the traditionally strong showings from the UK, Spain, the Netherlands as well as from Poland. In addition, there was also a considerable increase in fair guests from Asia, particularly from China. Visitor figures from the USA (up 25 percent), South America (up 21 percent) and India (up 34 percent) also displayed an impressive upswing
The atmosphere at interzum was one characterized by business and networking. The exhibiting companies unanimously reported excellent contact with representatives from all sales channels – at a very high level. This was confirmed by the preliminary visitor survey: almost 64 percent of visitors questioned revealed that they were either sole or joint decision-makers when it comes to purchasing and procurement decisions within their respective companies. Based on the excellent atmosphere at interzum, post-fair business is generally expected to be good.
With 1,561 companies from 57 countries in attendance, not only were all the market-leading companies represented in Cologne, but also plenty of smaller, highly innovative companies. No trade fair but interzum hosts so many market and trend leaders presenting their innovations in furniture production, interior fittings and materials used, making it THE industry meeting place for decision-makers.
Overview of the trends at interzum: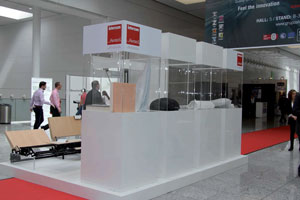 interzum provides the furniture industry momentum for their innovations: The decision-makers, opinion leaders and multipliers in furniture production and interior design are excited about your new products, solutions and concepts. For four days the interzum is the central communication platform for the industry: exhibitors from around the world meet visitors from around the world – and do good business.
interzum serves as the stage for industry-wide progress, for world debuts and product innovation and as an industry meeting point where products are launched and ideas become commercial successes.
Customising: Across-the-board diversity, even production runs of one! New, bold combinations, original ideas, color trends of the future, decor concepts, designs, patterns. Big emphasis on design expertise despite principally technological functions.
Conservative use of materials: From the screw to the lightweight panel, from leather cutting to intelligent foam materials/foams inspired by nature, with internal cavities but stable nevertheless. Resource conservation: Technical refinement of materials as well as of manufacturing and recycling processes.
Demographic change/Mobility: Sit-to-stand assists, castors, fittings to facilitate the easy disassembly and transportation of sofas, simple usability and a focus on comfort. Connectivity: Apps, Bluetooth and WiFi for lighting control, locks on furniture and adjusting height levels. Plus an ever increasing diversity of software for customized ordering, e.g. levels of mattress firmness.
Technologies of the future: 3D-printing: a technology currently making inroads into many areas of production, design in particular
interzum takes place every two years bringing trends from those on the cutting edge of the supplier industry to inspire the design of future living environments, and presents everything the industry has to offer in the realm of furniture manufacturing and interior design. The next interzum will take place in Cologne, Germany, 16. – 19 May 2017.