* Visitors to the Latexco booth discovered Latexco's 4 product families, including the brand-new concepts with innovative qualities.
Latexco, one of the world's leading manufacturers of latex foam components and PU foams for the bedding industry, has rebranded its product portfolio, in order to help its customers easily find the bedding solutions they seek. Visitors to Interzum 2017 discovered the four new Latexco product lines, each with their own properties and benefits. Eye-catcher at the booth is the 'latexco fusion' line, which enables Latexco to provide customers with personalized levels of sleeping comfort.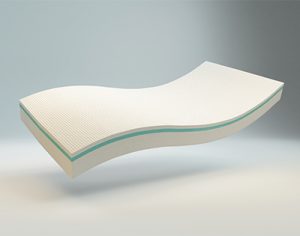 4 product lines
Latexco's product offering is very broad. It includes mattresses, toppers and pillows composed of different raw materials, manufactured in different ways and, consequently, meeting different sleeper wishes and needs. To help their customers choose the bedding solutions that best meet the unique sleeping experience they want, Latexco has now rebranded its product lines. The products remain the same, but the new brand names and trendy, bright colors, make it easier for customers to select just the right bedding solutions.
 Latexco classic latex 
Combining both natural and synthetic latex, 'latexco classic latex' is Latexco's classic range of comfortable, high-quality mattresses, toppers and pillows. Tapping into over 60 years' experience and expertise, Latexco exactly knows the proportions of natural and synthetic latex needed to achieve this or that quality of bedding products. They can therefore customize the products to fit customers' specific needs.
Latexco natural latex 
The 'latexco natural latex' line includes a fine selection of bedding products made of pure natural latex – as a cast-iron guarantee of exceptional comfort: great elasticity, superb flexibility, excellent support and good ventilation.
Latexco fom
'latexco fom' bedding products, the third product family, are manufactured with high-quality, technical PU foams. While each variant version has its own features, every solution from this range ensures excellent durability, a healthy bed microclimate and great ergonomic features. 'Latexco fom' solutions are manufactured either in the US or at the fom production unit in Tielt, Belgium, which Latexco inaugurated in 2016.
Latexco fusion
The mattresses and toppers in the 'fusion' range are composed of a layer of latex and a layer of technical PU foam. By combining – 'fusing' – both materials, in different proportions, Latexco produces strong, durable mattresses and toppers with unparalleled comfort levels.
What makes this range so special, is that it meets the growing need for personalized bedding solutions. 'Fusion' mattresses and toppers are developed in close cooperation with Latexco customers: the experts sit around the table with the customer in order to determine his/(her) needs and then 'fuse' the right mix of (natural) latex and PU foam to achieve exactly those characteristics that the customer requires.
Latexco writes a new chapter
"Today's consumers attach more importance to sleeping comfort than ever before. Hence the growing interest to provide them with tailored bedding solutions. The possibilities of our 'fusion' bedding products are virtually endless," says Alexander Bolliou, Latexco's CEO. "By adding this line to our wide range, we're getting another step closer to our mission: deliver innovative bedding solutions that help people dream and enjoy a happy, active and healthy life, thanks to a good night's rest."