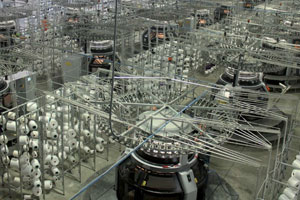 Comfytex is excited to introduce revolutionary products as Self Clear, CoolTouch, Silky and Proguard to produce a healthier and cooler sleep environment.
Self Clear: Thanks to the active ingredients contained in a Self Clear fabric has a self-cleaning feature. Self Clean fabrics can clean all types of organic contaminants such as bad odor, bacteria, nicotine, toxins, soot.
Self Clear is composed of minerals on ground surface and cellulose of timber. It works by using sunlight. Thus, Self Clear is a rayon fiber making the most of the blessings of nature. Also it is friendly to the earth, the environment and humans
Self Clear is not removed by daily use and washing because photo-catalytic titanium oxide is directly mixed into rayon. The photo-catalytic effect does not change. It lasts as long as the fiber is exposed to light. Characteristics of rayon itself remain unchanged.
Antibacterial: Self Clear kills bacteria, such as Staphylococcus aureus, Klebsiella pneumonia, E.coli bacillus and MRSA by simply being exposed to sunlight for five hours in fine weather.
Deodorization: Self Clear deodorizes unpleasant odors, such as ammonia, acetic acid, formaldehyde, acetaldehyde and trimethylamin. The deodorization effect is permanent.
Dirt decomposition: There are two types of dirt that adhere to textiles; dirt generated from inside the body, such as secretions like sweat, urine, blood, and sebum; and dirt coming from outside, for example sand, mud, fruit juice and oil. In particular, sebum secreted from body, consisting of oil and protein, cannot be easily removed by washing.
By being exposed to light, Self Clear decomposes such dirt ingredients
Silky: Silk protein contains 18 amino acids including essential amino acids. Silk protein has a strong affinity to keratin. Keratin is the structural material forming the top layer of the skin. With this structure, the silk protein has biocompatible property.
Silk protein forms a protective layer on the skin surface. Because of some additional properties like, gelling ability, moisture retention capacity, and skin adhesion, it has wide applications in medical and cosmetics. Silk protein has been used in skin, hair cosmetics. Silk protein when used in the form of lotion, cream and ointment shows increased skin elasticity, anti-wrinkle and anti-aging effects.
•Silk protein acts as moisturizer by prevent water loss from the skin.
•Silk protein can form a film on the surface of skin so that the water in skin can be preserved.
•Silk protein gives skin softness and smoothness
•Yet even after repeated washing, its effect remains almost the same.
•It gives a gentle, soft silky touch to fabric
CoolTouch: During sleep, temperature control is the number one priority. No matter what the season, temperature sensitive sleepers are looking for a solution to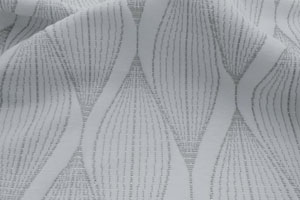 keep them cool. Comfytex is excited to introduce CoolTouch with rapid chill cooling fibers to produce a healthier and cooler sleep environment.
Comfytex CoolTouch disperses body heat throughout the surface of the mattress at a rate many times faster than that of regular polyester, focusing solely on heat reduction along the sleep surface through a combination of nano-technology. Comfytex CoolTouch by using the special cooling mineral and build it inside fiber to slow the speed of fabric temperature increase after touch heat source (like skin) and radiate the heat quickly to keep fabric cool. The unique tunneling effect of the mineral based fiber prevents heat accumulation in the material surrounding the body and providing a refreshingly cooler sleep surface.Comfytex CoolTouch fibers are a crushed mineral infused textile, meaning the cooling effects of this material are literally built into the fabric and will not wash out, lasting the lifetime of mattress. Comfytex CoolTouch has a cooling effect for more comfortable sleep. This material is long lasting, lightweight, breathable. This is done without chemical treatment. It is a natural property of the fabric.
Proguard: Now you can live, work or play with less worry about your bedding, home fashions and the planet. New Proguard ticking shield and clean portfolio is advanced care for a better planet. Proguard fends off soil, stains and spills on mattress without impacting the fabric's weight, look, feel, color or breathability. Proguard makes it easier to keep bedding looking fresh and clean. Proguard fights off dry soil and nasty, unpredictable spills and splashes, allowing liquids to bead up and roll off. Liquid spills can easily be wiped away when blotted with a clean cloth, and dry soil can be brushed off easily.
The benefits of Proguard:
•Water repelling: Water droplets run off simply and easily.
•Dirt repelling: Watery dirt such as sludge and mud are much less able to adhere to the fabric.
•Ecological: Proguard ticking needs less energy and water for cleaning.
•Easy Care: Proguard makes simpler to clean
•Universal: Proguard is effective on many types of fiber and many blends.
•Washable and easy care: Proguard has outstanding washing resistance.
•Breathable: The breathability is not affected and the feel remains pleasantly soft
•Abrasion resistant: Proguard has high abrasion resistance.