For many years German manufacturer Mattes & Ammann from Tieringen specialists in circular and warp knitting, have used Trevira yarns for their high quality circular knitted and warp-knitted products. Here particular note falls on applications in the automotive sector and on Trevira CS qualities for seat covers on trains. Now, however, the topic of "living" is a segment growing in importance for the Swabian textile company, and especially in the mattress sector. Working with fiber manufacturer Trevira, Mattes & Ammann have developed a variety of qualities for mattress covers and they recently extended their product range for the segment to include a collection in Trevira CS to cater for the contract market.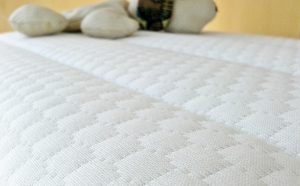 Based in Tieringen (Baden-Württemberg), the company was founded in 1951 and specializes in warp and weft knitted products for the automotive industry, and in fabrics for seating and mattress covers. Production includes also a circular knitting facility. Total annual production is in excess of 55 million square meters of textile, achieved with a workforce numbering around 275.
Within the contract market, safety takes on great significance from the very beginning of project planning. Spectacular large-scale fires, such as the hotel conflagration on New Year's Eve 2015 in Dubai, continually bring this subject back into the public eye. Due to fire safety regulations, flame retardant drapes, decorative and upholstery fabrics are established standard in hotels, hospitals and in care homes today. The use of flame retardant mattress covers makes an additional contribution towards preventive fire protection.
New developments for all contract sectors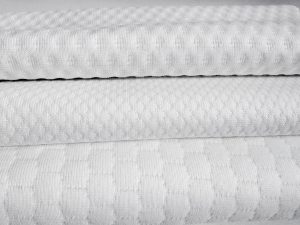 The new range currently includes three qualities in various grammages and in fabric weights of 230 – 365 g/m², with the result that the cover can be adapted to the different structure and the desired weight of the mattress. A variety of looks offers further possible choices, highlighting the wide range of fabric constructions. Every newly developed article bears the trademark approval for Trevira CS. Working with Werkmeister based in Henstedt-Ulzburg, the manufacturer of top-end mattresses, Mattes & Ammann have also set in place the complete IMO certification for the maritime sector (both Module B and Module D), so that these mattresses are suitable for maritime applications. This includes use on cruise liners and yachts. Mattress manufacturer Breckle in Weida too has mattresses for the maritime sector, correctional facilities and contract applications in its portfolio and will in future be using Trevira CS fabrics from the Mattes & Ammann collection for its covers.
Alongside products for shipping, mattresses with permanently flame retardant covers are also of interest for aircraft for instance (catering for First Class equipment on long-distance flights). The same applies to barracks, psychiatric clinics or penal institutes – indeed anywhere there is a need for mattresses and where particular safety regulations apply.
The virtues of the new development are two: the high quality of "Made in Germany" embedded in the article from fiber to end product and the permanent flame retardancy of the covers, a benefit that is not lost even after washing. Trevira CS materials are easy care and kind to the skin, and Trevira fibers and yarns meet the human-ecological demands of Oeko- Tex 100 standard.