Sova Bedding got intensive demand for its own design and product, the mattresses with mechanism.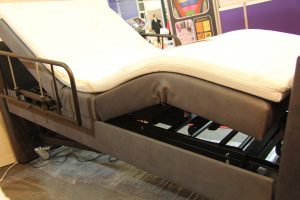 Sova Bedding has a Norwegian root and means laying down in comfort and a trade name of company established in 2007. Production started in Holland in a 10,000 sqm-factory and when filled its full capacity there, the firm moved to Turkey in 2015. Procuring its materials from Holland, Germany and Belgium,
the company has started sales on the internet in September this year. Proprietor of the company Abdurrahman Yazi emphasizes on the importance of having quality products and offering them at reasonable prices.
When asked about his assessments on Sleep Well Expo, Yazi said, "We got more customers than we expected at the beginning. Though it is rather small, participation and visitors are so satisfactory. We have now many customers from Israel, Libya, Saudi Arabia and similar countries. We will keep our efforts to expand our market coverage in these mar ke e of our movable adjustable systems belong to us and we are a European origin company, so, our products attracted great interest. Mattresses with mechanical systems are known well in the world and they proved themselves in the market."