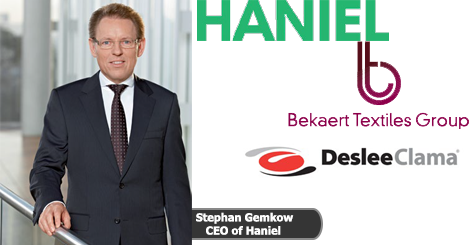 Bekaert Textiles and DesleeClama reached an agreement under which Bekaert Textiles will acquire DesleeClama to become the world's leading mattress fabric supplier. The deal forms a strategic and cultural fit as both companies have an ambitious growth strategy and are very compatible and complementary.
Combining their strengths will create a customer-centered company with a unique global footprint, higher speed of delivery and a comprehensive product portfolio. The completion of the transaction is subject to regulatory approval. The deal between Bekaert Textiles and DesleeClama is part of their growth strategies and an answer to great market opportunities fueled by the increased awareness about the importance of sleep and the acceleration of the global mattress market.
Besides a great strategic and economic opportunity, the deal is a cultural fit between two companies having the same background, similar values and a rich tradition. Both have successfully expanded their business with sales in more than 100 countries and manufacturing in 19 different locations on all continents, which makes the combination very attractive. Both organizations will merge as equals to strengthen their position as a relevant business partner in an increasingly professional and demanding market.
"This transaction is the realization of a longstanding ambition," says Dirk Vandeplancke, CEO of Bekaert Textiles. "We quickly found common ground and I am pleased that both Jos and Hans commit to shape our future together as members of the management team of BekaertDeslee Textiles."
"BekaertDeslee Textiles is the right industrial project that will deliver accelerated growth for the combined organization," says Jos Deslee, co-CEO of DesleeClama. Co-CEO Hans Dewaele adds, "We each have our distinct design signature when it comes to product development and innovation. We are very serious about continuing to offer the value that made our customers choose for both of us."
"The acquisition is carried out with full support of Haniel and underlines our buy and build approach: identify promising niches, buy new businesses and then promote the further sustainable growth," says Stephan Gemkow, CEO of Haniel. "We are sure that this merger will create added value."
#Bekaert, #Deslee, #Textiles, #BekaertTextiles, #DirkVandeplancke, #DesleeClama, #JosDeslee, #StephanGemkow, #Haniel