The leading association for Turkish manufacturing industries met at the IDC Turkey Smart Manufacturing Technologies Project summit at Sapanca. Boydak Holding and Boyteks were both on the podium.
Turkey's manufacturing industry giants got together at Sapanca to draw Turkey's digital road map.  Under the "Play Big, Win Big with Quick Innovation" slogan, the summit discussed the strategies and priorities shaping digital transformation with technology, product and service suppliers, as well as input from the manufacturing industries most powerful corporations' IT and production managers.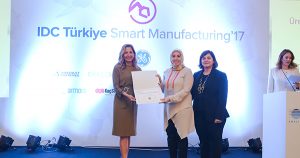 The summit was attended by nearly 150 industry leaders, and the IDC Turkey 2017 Smart Manufacturing Technology Awards found their owners.  In its second year, a 40 person jury reviewed 13 projects during the event, and selected the winners.
One of Turkey's largest corporations, Boydak Holding, distinguished itself once again by being honored with 2 awards.  The jury selected Boydak Holding in the Corporate Transformation category and its sub company Boyteks for the Internet of Manufacturing Things category.
The 2017 award winning projects for their own categories are as follows:
Corporate Transformation Category
ULKAR Holding (Nobel Pharmaceutical), Jupiter Global CRM-CLM Project
Kocaer Millery, Kocaer 4.0 Project
Boydak Holding, Base Metal Frame Automation Manufacturing and Assembly Line Project
The Internet of Production Things Category
Hugo Boss, The Internet of Things In Manufacturing Administration and Artificial Intelligence Project
TOFAŞ, Smart Station Project
Boyteks, RFID Technology Smart Warehouse and Shipping Systems Project
#guncel