* By intensive efforts in fairs and export activities Boyteks, one of the champions of exporters in 2016, aims the top again next year.
Boyteks wants to bring its products that are developed by intensive R&D activities and cutting age technology to the living spaces of masses. Products that are exported to 101 countries in 2016 have brought Boyteks to a position as the ninth biggest exporter in the country. We asked Gokmen Kara, marketing manager of the brand, about the steps they have taken and their plans for the near future.
Would you inform us about the firsts and innovation that you have undersigned both in Turkey and in the world?
Globally, we are among the most important brands of industrial textiles. We have more than 100 products that were developed with different technologies such as the Cooler that gives a sense of coolness, the Biorytmic Sleep that provides balance and concentration. With these products that are the fruits of our R&D team's intense efforts we are moving to living areas of the people. Boyteks is the pioneer of the industry in terms of innovation and will continue to do so.
What are the basic values and mission of your company that are to be delivered from the past to the future?
We assumed a mission to be a corporal, dynamic, innovative and dependable firm in all fields of activities and to contribute more to the national economy. Born in the 2000s, a period that most of the companies were stopping their investments; Boyteks has become a valuable company in its field by the efforts of young managers in a short period of time. Our human resource has made us who we are. We arrived this position by working hard. As Boyteks we serve to our customers in their efforts to make innovation, new designs and new products with our product quality, reasonable prices, product variety and fast delivery services.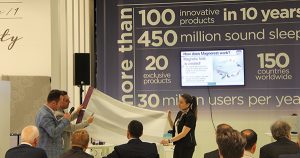 When did you decide to enter export markets and what is your vision in this regard? In which countries do you active and how is your organization for these efforts?
We did our first export in 2002. As of 2016, our products have been exported to 101 countries, this made us the ninth largest exporter of Turkey who sold to so many countries. Since at the beginning we aimed to be the leader in all fields that we are active. Presently, we are the leader in fabrics for mattresses. One out of ten mattresses produced in the world are made with Boyteks fabrics. We have about 50 major distributors and dealers in different part of the world. And have commercial ties with world famous companies. Our sales and marketing team are active in more than 50 countries, and we host representatives of foreign companies in our facilities in Kayseri and in Bursa. It gives us excitement.
Would you mention about your strategic target regions or countries in global arena?
Boyteks covers a wide scale of geography. We can re-arrange our strategies depending on the changing economic and political conditions. The USA, Europe and Asian region are important for us. This year and next we want to focus on South American market, leaded by Brazil, Colombia and Chili.
As one of the rare Turkish companies having large scale of operations in foreign markets, what kinds of adjustments have you made? What were the recent investments and projects?
2016 was hard for us because of the recent events we experienced in and out of the country. Last year, we participated in 20 fairs with our three different product groups. We met with our business partners; expanded our export team; emphasized on marketing and other investments. We opened showroom in China. We updated machinery and expanded capacities of our factories in Bursa and in Kayseri.
What were the main projects and topics you had been focused on both in Turkey and in global markets in 2016?
Total quality and productivity are main topics in our industry. We started several projects for production and maintenance systems. We completed serious projects such as automation of logistics and production systems. Besides, other projects are running, such as Turquality, 6 Sigma and 5 S.
What was your performance metrics as the end of 2016? Would you share some of them with us?
We hit targets for 2016 is turnover and growth. Exports have passed over 140 million dollar. We employ more than 1700 people. By the end of 2017 we aimed to invest 35 million dollars.
How did you plan your road map for 2017 to increase your brand awareness and to reach your global targets?
2017 is highly important for us. We consider it a jumping year in selected markets. Fairs are also important. We were fairs and Germany and Italy, in England, and China. We completed top fair events in Italy, Interzum Cologne in Germany, and Evteks in Turkey.
Is there any new market that you are going to in 2017?
South America is one of them. We want to penetrate more by acquiring new partners and engaging in new investments.
Would you mention about your competition and your position?
We have serious global competitors in fabrics for mattress, upholstery and carpets. We are one of the top producers of mattress fabrics, even I may say that we are the leader. For upholstery fabrics we ranked among top ten in the world. We seek opportunities for further growth in carpets, the new category.
Would you brief about your mid and long term global targets?
We want to reflect our success and leadership, market share and brand awareness we own in mattress fabrics to other product groups as well. We have enough resources, assets and power to realize them in medium term.
What is your 2023 vision?
We targeted to hit 500 million dollars limit by the year 2023. We keep our efforts running on this way.
What is your biggest dream on the way to be a real global Turkish firm?
We targeted to reflect the success of Boyteks in B2B markets as a global player into B2C markets as well. We want that both consumers prefer mattresses, furniture and carpets made of our fabrics as well as the producers of these products. We will be a real global player, when we realized this.
#guncel
."