Coverteks is a firm that was established in order to breathe new life into the bedding sector which has been making a rapid progress all around the world. Under the title of washable mattress cover production, it has a goal of becoming a firm that sets the trends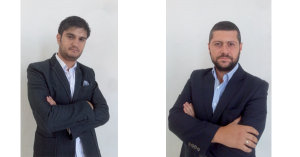 within the sector through developing new models along with the production of mattress cover. "In addition to our experiences within the sector of bedding, being a company which is based on corporate culture by being open to new developments is our basic principle. Minimizing the costs and work load of producers by considering basic factors that we have been observing within the industry of bedding such as high
machine costs and time costs, and providing opportunity advantages for producers within the sector by means of competence is another basic principle of ours," says Eren Erdurmuş, Member of Board, Marketing Director & Export Manager of the company. "Our firm which is centered in Kayseri has a place for itself within the borders of the sector through turning its closeness to raw material sources, admissible price policies, rapid reply / rapid service and after-sales services into certain advantages."
"Standard 4-side-zippered models, models with spacers, rich borderline models and models with toppers are available within the scope of our production segment. Continuous model developments
have also been procured among our main product groups. Color combinations are successfully performed by our expert staff in accordance with several designing studies in compliance with different regions of the world. Our covers that provide numerous advantages not only for producers but also for users are served within the sector along with its washable, breathable, qualified fabric and eye-brightening designs. They are suitable for use especially in places where beds are used all together with a need of hygiene such as hospitals, military camps, dormitories. Thanks to the advantage brought by the bedding cloth which is suitable for being washed, it is a preferable product among the bedding sector. "Our firm which is located in Kayseri that is one of the first things that come to mind when bedding sector is uttered has an advantage of being close to the raw material sources.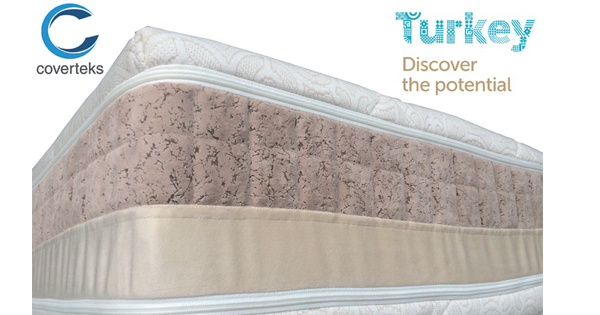 All around the world, out of Kayseri, innovative product researches have been procured. COVERTEKS that continuously negotiates with the firms known for their innovative products especially in bedding sector analyses all kinds of products which will create a difference in its products and studies them in order to add them among its products. Firms with which we have been working are the firms that are well-known all around the world and made their marks within the borders of bedding sector. "We have been getting into the act in the industrial area which is known as Furniture City that has recently established in Kayseri. Our capacity of production had begun as 3000 covers per month and this amount has reached at 5000 in time. With our trained and specialized employees, designing and sewing phases are completed, and after qualitycontrol phase, timely delivery phase is procured. We have been performing trouble-free studies thanks to our high technology machines. "COVERTEKS, a firm dominant in exportation, had performed its first exportation to Jordan right after its entrance into the sector. India, England, Holland, France and Germany are the principal countries to which we have been exporting. Our firm is operated with a structure of 80% exportation and 20% domestic sales. We are able to land our sales in regions where mattress cover use is more common. However, one of the main activities of our company is to become active in different regions by explaining the advantages of washable covers to the bed producers. Progressive attention towards mattress covers in Turkey reflects upon our demands. We aim at having success in regional sales by designing products on country basis.
"Like it has been as this all around the world, there is an intensive competition in Turkey, too. Production capacity is pretty high. However when costs on the basis of machine parks are considered, competence is completely cost-oriented. On that point, while our firm minimizes the costs, it also provides competence advantages through appealing bedding designs.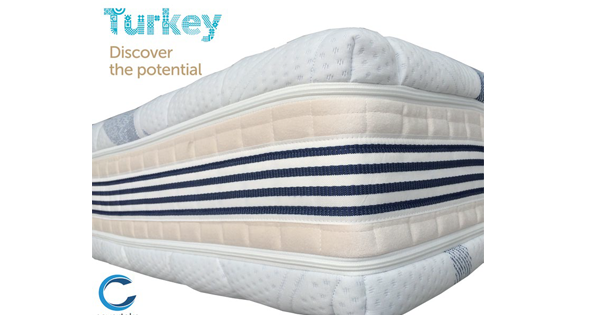 "Lastly, COVERTEKS, despite the fact that it is a new firm within the scope of the sector but good at progressing thanks to its experienced managers and employees, has a place in the sector with its production capacity with a power of modeling designs, trouble-free trading intellection, rapid delivery and post-sale services. The fact that it provides all of them with admissible price levels is another advantage of ours. I relay our love and respect to all of our firms that have been operating within the borders of bedding sector."
#bed,  #Coverteks, # discover,  #sector