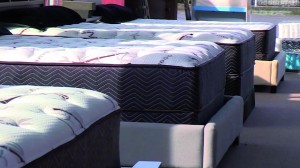 Mattresses may consist of a quilted or similarly fastened case, usually of heavy cloth, that contains hair, straw, cotton, foam rubber, etc., or a framework of metal springs. Mattresses may also be filled with air or water. Mattresses are made up of a variety of mattress components. And the quality of each one of those mattress components has an important impact on the total quality of a mattress. Many parameters such as pressure distribution, skin microclimate, hygiene, edge support, and long-term stability and durability determine mattress quality.
Early mattresses contained a variety of natural materials including straw, feathers or horsehair. In the first half of the 20th century, a typical mattress sold in North America had an innerspring core and cotton batting or fiberfill. Modern mattresses usually contain either an innerspring core or materials such as latex, viscoelastic or other flexible polyurethanefoams. Other filling components include insulator pads over the coils that prevent the bed's upholstery layers from cupping down into the innerspring, as well as polyester fiberfill in the bed's top upholstery layers. In 1899 James Marshall introduced the first individually wrapped pocketed spring coil mattress now commonly known as Marshall coils as described below.
UPHOLSTERY LAYERS, PADDING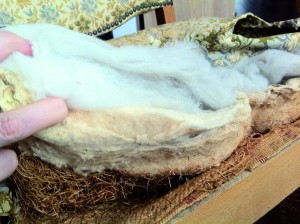 Upholstery layers provide cushioning and comfort. Some manufacturers call the mattress core the "support layer" and the upholstery layer the "comfort layer." The upholstery layer usually consists of three parts: the insulator, the middle upholstery, and the quilt.
The top of your mattress contains several layers of padding. The top layer is right below where you sleep and has a big impact on how comfortable the mattress feels overall. Beneath that is another layer of padding that affects how much support the mattress gives the pressure points in your body. Finally, beneath that is another layer of padding that protects your body from the springs if your mattress is a spring mattress. In most cases, padding is usually made of materials such as polyurethane foam, puffed-up polyester or cotton batting. Extensive mattress padding is often more expensive, but many people find it more comfortable and worth the extra cost.
Middle padding
This type of mattress padding is just below the quilted top layer and is usually made with foam. When looking at a cross-section of the mattress, softer foams feel almost moist to the touch while firmer foams won't spring back as quickly. The next layer of mattress padding is made of cotton batting that may vary in thickness across different mattresses and even within one mattress. This causes the mattress to feel firmer in some areas, such as firmer in the middle part of the mattress.
Insulation mattress padding
This padding lies on top of the coil springs so that they cannot disturb the sleeper and cannot be felt from the top of the mattress. It also protects the coils from damaging the top layers of the mattress.
Ticking and quilting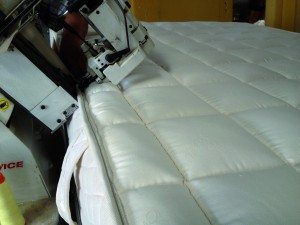 The exterior of your mattress is covered in a fabric. This is the part of your mattress you actually cover up with your bed sheet. That doesn't mean it's not one of the most important mattress components. A mattress with quality ticking and stitching will typically last longer before it needs replacement. In addition, it is the part that touches your body for comfort or the other way.
Ticking is the protective fabric cover used to encase mattresses and foundations. It is usually designed to coordinate with the foundation border fabric and comes in a wide variety of colors and styles. Mattress fabrics can be knits, damask or printed wovens, or inexpensive nonwovens. During the past decade, along with the rise in popularity of all-foam beds, stretchy knit ticking on the bed's top panel has become a standard look on both innerspring and foam beds. Most ticking is made with polyester yarns. More expensive mattress fabrics may contain a combination of polyester with rayon, cotton, silk, wool or other natural yarns.
Until the early 2000s, beds were normally upholstered with a single fabric. This was usually a damask ticking or, for inexpensive bed sets, a nonwoven fabric covering all surfaces of the mattress and foundation. Today's bed sets are covered with up to six different fabrics: A better quality circular knit or woven damask on the top panel—the bed's sleeping surface; a matching or contrasting [usually woven] fabric on the border of the mattress; a matching or contrasting [usually woven] fabric on the foundation side panels; a 'non-skid' woven or non-woven fabric on the surface of the foundation and reverse side of the mattress; and a nonwoven dust cover on the under side of the foundation.
There are a lot of smart and innovative mattress ticking fabrics making a big difference on sleep quality.
SPRINGS and COILS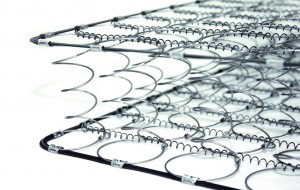 Under the padding is a bed of springs that provide the support for the mattress. Innerspring mattresses commonly consist of just spring core, and the top and bottom upholstery layers. The quality of those springs is important. In general, springs that are made from a thicker wire will be firmer and provide more support. In other words, the gauge of the coils is a factor which determines firmness and support. Coils are measured in quarter increments. The lower the number, the thicker the spring. So, the number of springs is important, but more is not necessarily better. You will need to test out different innerspring mattresses to find the spring configuration you find most comfortable for you. If you have a medical doctor advice, you should consider that for choosing your innerspring mattress.
While a wide variety of springs are designed to accommodate special needs and situations, the four most commonly used coils are the Bonnell, the Offset, the Continuous, and the Marshall Coils (Pocket System).
Bonnell coils are the oldest and the most common coils. First adapted from buggy seat springs of the 19th century, they are still prevalent in mid-priced mattresses. Bonnell springs are a knotted, round-top, and hourglass-shaped steel wire coil. When laced together with cross wire helicals, these coils form the simplest innerspring unit, also referred to as a Bonnell unit.
Offset coils are hourglass type coils on which portions of the top and bottom convolutions are flattened. In assembling the innerspring unit, these flat segments of wire are hinged together with helical wires. The hinging effect of the unit is designed to conform to body shape.
Continuous coils system is an innerspring configuration in which the rows of coils are formed from a single piece of wire. They work in a hinging effect similar to offset coils.
* Marshall coils, also known as pocket springs, are thin-gauge, barrel-shaped, knotless coils individually encased in fabric pockets—normally a fabric from man-made, nonwoven fiber. Some manufacturers pre-compress these coils, which makes the mattress firmer and allows for motion separation between the sides of the bed. As the springs are not wired together, they work more or less independently: the weight on one spring does not affect its neighbors.
FOAM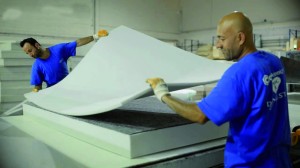 Mattresses that do not contain springs typically use foam in their support layer. There are pros and cons to selecting this type of mattress, so it's important to carefully evaluate this option and the alternatives before making a final decision. One should look for a foam mattress that is comfortable but supportive, and that helps keep cool while sleeping. All-foam mattresses use different weights and densities of petrochemical-based flexible polyurethane foams and viscoelastic foams or memory foam, and latex rubber foams. A number of mattress manufacturers have incorporated polyurethane and viscoelastic foams with a portion of plant-based content.
Latex foam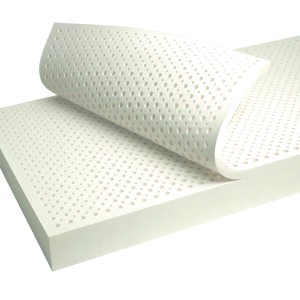 Latex foam in mattresses is generally a blend of the latex of the Hevea brasiliensis tree and synthetic latex, which is derived from petrochemicals and other substances and fillers. There are, however, natural latex mattresses that leave out polyurethane-based chemicals. Latex foam is produced using either the Talalay or the Dunlop process. Each provides a different feel. Dunlop is generally a firmer foam but Talalay is softer. While the Dunlop process produces a denser foam, the Talalay process produces a lighter one that has more air in it. If you were to weigh each as latex cores, the Dunlop foam would be heavier because it has more latex in it. Talalay is more expensive as its production is more resource intensive. Natural latex foam has a higher latex content than synthetic latex, however, "100% natural latex foam" is misleading.
Memory foam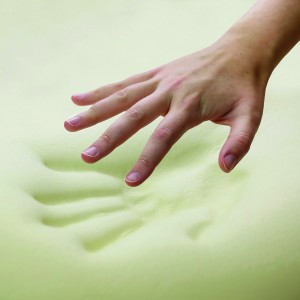 Memory foam mattresses use conforming viscoelastic foam over firmer polyurethane base foam. Some innerspring mattresses have memory foam in their upholstery layer. Different feels and comfort levels are achieved by varying the thickness, weight and formulation of the viscoelastic foams and the base foams. Latex and memory foam mattresses each provide a unique feel. This type of mattress is good at relieving pressure on painful joints. Many memory foam mattresses are more expensive than standard spring mattresses.
Memory foam is affected by temperature. In a cool bedroom, a memory foam mattress will feel firmer than it does in a warm bedroom. Memory softens and conforms to the sleeper in response to body temperature and body weight. Traditional memory foam molds to the body causing a depression the sleeper must roll out of when changing sleep positions. Mattress manufacturers have responded to this issue by using "faster response" memory foams. They spring back more quickly when the sleeper moves. Foam mattresses are also known to generally "sleep warmer" than innerspring mattresses. Mattress makers have addressed the issue with "open-cell" memory foams, pinhole cored memory foam, gel-infused memory foams, channel-cut foam cores, reticulated foam support layers and other technologies to improve air circulation through all-foam beds.
High-density foam
Similar to memory foam mattresses, a high-density foam mattress uses a more compact foam typically made from polyurethane. This kind of foam is made largely from open cells that are packed together tightly. High-density foam mattresses offer comfort and longevity because they are denser than a traditional foam mattress. High-density foam mattresses that have an innerspring system last even longer and eliminate mattress sagging.
WATERBEDS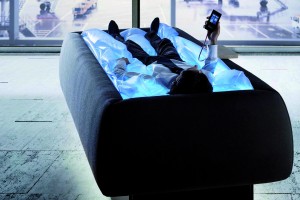 A waterbed is a mattress with water in its interior instead of metal coils or air. Waterbeds can be lined with different layers of fiber to achieve the level of firmness the user desires. Waterbeds are well known for providing support to the spine and other body parts, similar to the other mattress types. There are several options of support which range up to 100% waveless, where the user does not notice he/she is lying upon a waterbed.
AIRBEDS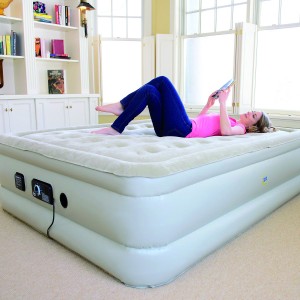 Air mattresses use air, rather than a coil system or foam core, as a means of support. An air mattress is an inflatable mattress, the majority of which are usually made of polyvinyl chloride (PVC), although recently developed textile-reinforced urethane plastic or rubber versions exist. The deflated mattress can be rolled up or folded and carried or stored relatively easily, making them a popular choice for camping trips and for temporary bedding at home for guests. They are inflated either orally by blowing into a valve, or with a manual or electric pump.
Air chambers that run through the mattress allow you to adjust and customize your comfort. Sleepers with preferences ranging with different levels of firmness can find their ideal comfort by adjusting the amount of air in the chambers. Some air mattresses feature a dual zone technology that allows both sleeping partners to set their side of the mattress according to their preferences. You can sleep soundly in soft, plush comfort while your partner enjoys a firm night of sleep. Some airbeds take customization to the next level, giving sleepers the opportunity to customize different zones of the mattress. This could be an ideal option for sleepers with ailments such as a bad back or a weak neck. With more air supporting the areas of the body that need it most, sleepers can rest easily knowing that every part of the body is getting the support it needs.
Lightweight, reduced-size and reduced-thickness air mattresses specifically intended for camping and backpacking are sometimes called sleeping pads, especially when a layer of foam insulation is added under the air chambers. Better quality air chambers, which are designed for permanent use in the home, are constructed of vulcanized rubber, covered in canvas or of polyurethane. These chambers are then installed into a cloth shell or ticking. Permanent airbeds will look almost like conventional beds with the exception of having a hose (one air chamber) or hoses (two air chambers) coming out of the head of the bed. These hoses will be connected to an air inflation device, with two outlet valves, that will have a remote control so that each person can adjust the firmness of his or her side to his/her own needs. The firmness can be adjusted up or down, with the simple push of a button on the remote.
FOUNDATION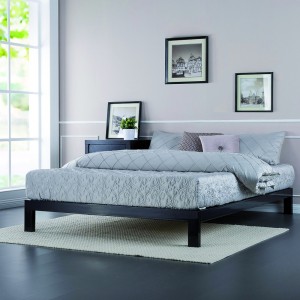 Rounding out the list of mattress components is the mattress foundation, often called the boxsprings. The mattress foundation or boxspring adds another level of support to the mattress. Most mattress manufacturers also produce foundation mattresses or boxsprings that lie directly beneath the mattress, resting on the frame of the bed. Usually, the foundation is made of either wood or springs. Springs will give the bed a plusher feel while wood will provide more support. If you prefer wood, make sure the material is free of cracks and constructed straight.
One of the most common types of boxspring foundations uses a spiked coil configuration, in which the springs are narrow at the bottom but spiral to a wider diameter at the top. While a spring system provides the most common type of boxspring support, torsion bars are also sometimes used. Other foundation mattresses contain no springs at all but consist of a built-up wooden frame.
Some contemporary mattresses don't have a foundation, but these are not common.
#manset, #FOUNDATION, #AIRBEDS, #WATERBEDS, #High-density foam, #Memory foam, #Latex foam, #SPRINGS, #padding, #mattress, #components