* The new partnership will address the composing of new markets for post-consumer waste mattresses.
HORGEN, Switzerland and PARIS, France – Dow (NYSE: Dow) and Eco-mobilier, the French mattress and furniture EPR (Extended Producer Responsibility) organization, announced a new collaboration for the collection and supply of post-consumer polyurethane foam for the RENUVA™ Mattress Recycling Program.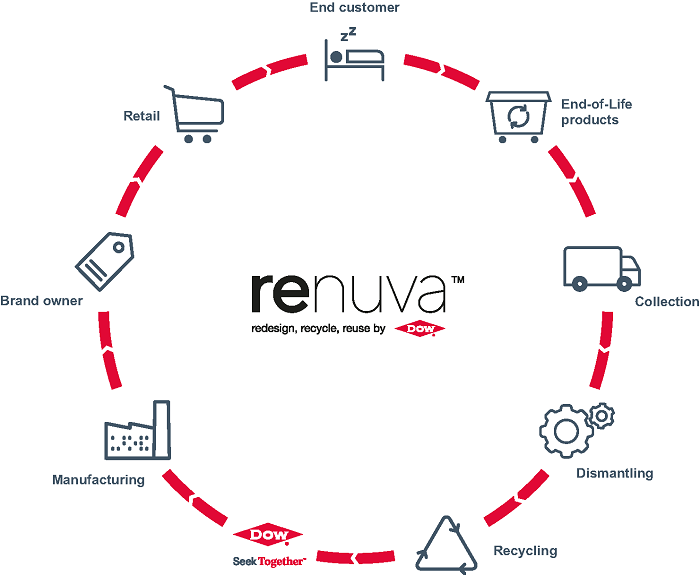 As part of this innovation partnership, Eco-mobilier will employ its used mattress collection and dismantling capabilities to supply post-consumer polyurethane foam to Orrion Chemicals Orgaform's recently announced chemical recycling unit in Semoy, France.
In Semoy, Dow's RENUVA™ Mattress Recycling Program will use chemical recycling to convert this recovered foam into new valuable polyurethane raw materials (polyols). Dow aims to validate and work towards creating a market for these recycled polyols.
"At Dow, we are addressing the challenge of discarded mattresses head on. We have been actively reviewing centrally organized waste collection, dismantling, and recycling systems for end-of-life material for years. France has set an example by creating the EPR scheme and Eco-mobilier is leading the way in mattress and furniture waste collection," said Neil Carr, president of Dow Europe, Middle East, Africa and India. "This collaboration is a demonstration of a completely new eco-system being built to create a circular economy for polyurethanes."
Eco-mobilier has been collecting used mattresses since 2013. In 2019, the volumes collected already reached 66,000 tonnes, and Eco-mobilier's actions enabled a significant improvement in post-consumer mattress recycling. Nonetheless, the markets for such materials remain limited.
"Eco-mobilier and its manufacturer and retailer shareholders* are proud to support this first industrial plant dedicated to PU foam chemical recycling right here in France. Thanks to this pioneering project with Dow, we are closing the loop by opening a new era for mattress recycling. This aligns with our strategy of implementing industrial tools for mattress recycling in France", added Dominique Mignon, president of Eco-mobilier.
The announcement is the latest step in the development of the RENUVA™ Mattress Recycling Program, which aims to recycle up to 200,000 mattresses a year in France and address the problem of waste landfilling and incineration. Initial production of RENUVA™ polyols is anticipated in the first half of 2021.
#renuva, #sleep, #mattress, #dowchemicals, #pufoam