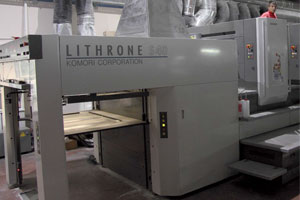 Producing label for mattress manufacturers, Dogus printing house products are seen in 25 countries. General Manager Bilal Karakus, informed about his company and activities.
On history of the company
Our company is 30 years old in the printing industry in Kayseri. In line with growing numbers of bed producers in the province, we focused on printing labels, booklets and other materials. Now we have a wide range of products in our portfolio. Companies began to export their products and we started to participate in the fair in abroad to enter in export markets. We are producing labels especially and mostly for mattress manufacturers for 20 years.
On the customers of the company
We sell to almost all companies operating in this sector. We have about 60 clients in our customer portfolio list. We try to serve major companies those that pay their dues and emphasize on quality not on price. We use imported materials and quality ink. We sell to both producers of economic and luxury beds
Label is important and is part of the bed's quality and marketing. It is less costly but has high effect. At showrooms where about fifty beds are exhibited labels signal first about the image and the quality of the product. We mostly render service for high-end mattress manufacturers.
On exports of the products
Bed industry is more powerful in Europe and in the USA. Producers are more loyal to their suppliers in those countries. We also want to establish sustainable relations with our clients and to work with professional companies. Our products are sold in more than 30 countries; about 25 of them are loyal customers. Though its volume is limited the label-printing segment accounts 15 % of our total production. We also produce other printed materials including brochures, booklets, catalogues and user manuals. We aim to be to sole supplier of bed manufacturers for their printed material needs.
We participate in fairs in Germany to promote our business. We got some new customers, one in Holland. We want to increase the number of buyers in abroad.
Recently I made a cold visit to a company in Syria, I showed them our productions and in two hours time, we got a deal. Personal visits and contacts are important. A label costs about only one lira, but it's added value on the product is priceless.
On printing business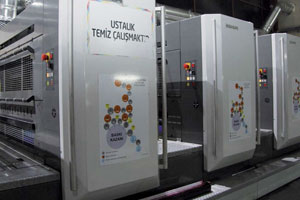 We try to be a specialized printing house focused on mattresses. We try to get more work from our customers related with all kinds of printing, including cardboard printing.
We participate fairs with an aim to find and develop new varieties, new materials and new techniques. We study to print on leather and special effect glossy printing. We try to attract attention
On new investments, and plans for 2015
2014 was not a good year economically. We kept our sales though it was the worst year of the last 8 years. There were problems in neighboring countries, Syria, Iraq and Azerbaijan, though they are ideal target markets for us. We keep our investments for 2015, and bought three new machines. Now we are able to produce more fantastic printings.