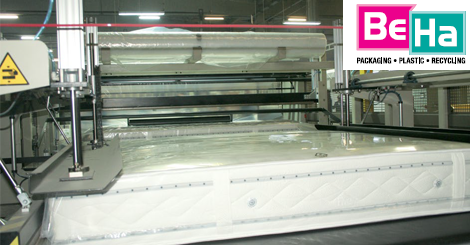 Be-Ha Ambalaj, one of the companies operating in the packaging industry aims high. Fatih Hasyuncu, proprietor of the company informed Sleep Tech magazine about his company.
Will you brief about your company?
We started in plastic packaging business in 2004. Being a customer- oriented company offering complete services before and after sales, we managed to have 900 tons per month production capacity in our factory of 7 thousand sqm. In 2009 we expanded our product categories in began to produce plastic covers for greenhouse and agricultural uses. In 2010 our company has obtained recycling license of the ministry of environment and forestry for its recycling facility, where 350 tons of recycled plastic wastes are processed monthly.
What kind of products do you offer for mattress manufacturers?
Print or non-printed shrink nylons used in automatic or manual packaging machinery, non-printed nylon bags and other materials for shrinking and packaging are produced in our factory. What are the specs of the materials for packaging? Plastic packaging field has a large variety in itself. Each company has their own machine inventory and target segments. We as Be-Ha, have focused on the needs of mattress, furniture, construction, textile, appliances and other industries. We can produce variety of products at variety of sizes and specifications.
What can be said about your machinery in your factory?
We have ten extruder that can drag films of 10 cm up to 10 meters, 2 ceramic anilox flexo press for CMYK printing needs, and other machinery to complete the production process including, cutting, segmenting, perforating operations. In 2015, Coex film machinery were added to our factory.
On R&D activities?
Every product is studied from the beginning to the end of production process. By utilizing tools of technology we aim to produce quality and cost effective products that answer the needs of the customers. Our R&D staff have an efficient channel of communication with our buyers and develop solutions in printing, material choice and lowering costs.
What is the importance of packaging in mattress industry?
Packaging is the least expensive but an important part of mattress business. It protects the products at every stage of delivery from factory to end user through warehousing and transportation. Besides, packaging can be a promotional material for the producers as they have been printed with logos and names of the producers. On export activities and target markets? Exports are important both the companies and for the national economy. We export to several countries 30 percent of our production including the USA, Switzerland, Germany, England, Greece, Ukraine, Iraq, Georgia, Iran and other countries in Africa. We target to sell half of the production in abroad. On procurement of inputs Depending on the needs, we use several materials such as LDPE, HDPE, LLDPE, etc. Petkim is the main source for these materials having 60 % share. The rest is bought from sellers in Iran, Saudi Arabia, Azerbaijan, Qatar and EU.
#behapackaging,  #packagingindustry, #machinery, #filmmachinery