* As one of the most deep-rooted industrial yarn manufacturers Nerteks realized inspiring talks with its global customers and partners.
Combining the most quality yarns with rich color, variety and thickness choices Nerteks has been closely following up all developments happening in the world in the sector. We heard the Interzum 2017 experiences of Nerteks from Muhammet Salim Erdogan, proprietor of the company: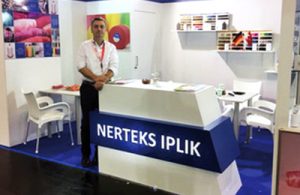 Interzum 2017 Cologne was a fantastic fair for Nerteks Iplik! The volume and frequency of visitors coming to the booth, as well as their internationality, was impressive. The number of visitors from 152 countries and the quality of the talks was outstanding. All the important national and international clients were in attendance and at the same time we had a chance to meet new contacts. We had numerous interesting and promising talks.
We believe in 2017, Interzum has reached a new level with rises in visitor figures and the growth in exhibitor numbers. This event hosts so many market and trend leaders presenting their innovations in furniture and mattress production, making it the industry meeting place for important international decision-makers. Also we realised plenty of smaller, highly innovative companies represented next to the market-leading companies.
Interzum Cologne 2017 was an all-round success. We were able to inspire our costumers and partners from all over the world and we are already looking forward to Interzum 2019 with confidence!