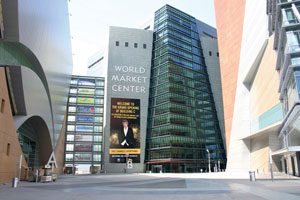 The Summer 2015 Las Vegas Market runs August 2-6, 2015, at World Market Center Las Vegas.
Since its launch in the Summer of 2005, Las Vegas Market has become the most comprehensive furniture, home décor and gift market in the Western United States, presenting a unique cross-section of 2,200+ resources in an unrivaled market destination.
Las Vegas Market is held at the World Market Center Campus in the heart of downtown. The campus is comprised of three interconnected buildings encompassing 40 floors of furniture, bedding/ mattress, lighting, casual/outdoor, decorative accessories, wall art, floor coverings, housewares, home textiles, tabletop, lifestyle products, general gift and more – delivering the most complete, cross-category wholesale tradeshow for the furniture, home décor and gift industries in the United States
"New" is a word you'll always hear at Las Vegas Market. New products? Absolutely. New vendors? You bet. New categories? For sure… You'll find four themes in the display—"Livable Luxury," "A Tasteful Hue," "Modern Boutique," and "The Colorful Outdoors"—each highlighting important decorating and merchandising trends for 2015. Most importantly, all of what you see in the displays is yours for the shopping in showrooms throughout the WMC campus.
Las Vegas Market increasingly deserves its reputation as the industry's preeminent Market for finding new products, trends and design. Virtually all Las Vegas Market exhibiting companies – ranging from the world's leading manufacturers to some of the most innovative companies – continue to introduce new products at each Market. That generates a lot of buzz, a lot of news and a lot of press. In fact, hundreds of journalists from across the globe attend and cover not only Las Vegas Market, but also the many other Markets hosted each year at World Market Center Las Vegas.
Launching this summer, The Pavilions at Las Vegas Market will feature a cohesive collection of home décor, decorative accessories, personal/fashion accessories, and trend forward gift exhibits in a vibrant and dramatic, column-free exhibit space. The size and convenient location will allow continued growth of temporary presentations within the broader Las Vegas Market. Beyond traditional gift and home décor exhibitors, The Pavilions will showcase expanded Handmade and Design collections focusing on innovative resources new to the Western market.
Las Vegas Market is Truly an International Marketplace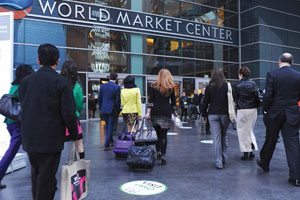 Attendees come from more than 100 countries and they witness ever-changing home furnishings industry with a new and lasting way to do business.
Las Vegas Market is the leading furniture, home decor and gift marketplace in the western U.S., presenting 2,200+ gift, home décor and furniture resources in an unrivaled market destination. Las Vegas Market features thousands of gift, furniture and home décor lines, allowing for cross-category commerce among these industries.
Anchor Tenants Expanding & New Brands Debuting in August
Las Vegas Market recently announced a series of exciting and dramatic changes to C-ONE, the cross-category showcase for directional tabletop, gift and home dé- cor resources, for the Summer Las Vegas Market, August 2-6, 2015. Key highlights include showroom expansions for two of the leading c-ONE anchor tenants—Michael Aram and Skyros Designs/Bodrum Linens; debut of several new brands in temporary presentations; and a dramatic redesign of the C-ONE tabletop corridor
"Las Vegas Market continues to emphasize and advance the aesthetic appeal of the Market experience, while also enhancing and expanding its overall resources for buyers," said Dorothy Belshaw, president of Gift & Home Décor, International Market Centers. "These new developments on C-ONE reflect a continued, and carefully considered series of improvements to the Market experience, which further enhances our standing as the leading furniture, home decor and gift destination in the western United States."
Celebrated metalware designer Michael Aram has expanded its Las Vegas Market presence by some 40% in a new 3,261-squarefoot showroom, with its additional frontage reshaping the C-ONE entryway and making an exciting new layout that better facilitates traffic flow. In a related change, Skyros Designs and Bodrum Linens, providers of fine European tabletop and textiles products, more than doubling in size, to a 1,830-square-foot showroom. In conjunction with these expansions, IMC has built a dramatic new entrance to the C-ONE atrium showrooms to enhance visibility of featured brands
Other leading c-ONE brands include an array of well-known upscale tabletop, gift, home décor and furniture suppliers, including Abbiamo Tutto; Alessi; Couleur Nature; JURA Inc.; Lenox; Lothantique; Lunares; Mariposa; MATCH; Olivia Riegel; Prouna USA; Rolf Glass; Tamara Childs; Vagabond House; Vest & Associates, including Mary Jurek Designs, Red Pomegranate, Simon Pierce and Vista Alegre; and Waterford Wedgwood Royal Doulton.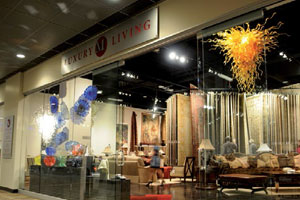 C-ONE's temporary presentations will include the debut of several new brands for the Summer 201 5Market. Newcomers include Robert James Collection, offering a collection of well-designed furniture pieces that embrace organic textures combined with clean contemporary lines; Vagabond Vintage, spotlighting stylistic vintage gifts, décor, lighting, furnishings and textiles; and Zoe Bios Creative, showcasing wall décor that is energetic, elegant, connected, and artful.
In addition, home décor and lighting supplier SkLO is doubling the size of its temporary presentation, to 934-square feet, for the summer market. In total, C-ONE showcases some 25 furniture, lighting and home décor providers in temporary presentations. Notable among these are Arther Galerias; EurDecor; FlowDecor; Kristine Daniel Designs; Uber Chic Home and many more.
Other highlights of Summer Market include a celebration of the Market's 10-year anniversary; the creation of C11, a new showroom floor for gourmet housewares, tabletop and specialty food; the continuing growth of C5, another new permanent showroom floor for boutique home décor, high-end home textiles and accessories; the premiere of the casual furniture launch at Las Vegas Market, with 250,000 square feet of permanent showrooms and temporary exhibit space on C12 and C13; and the repositioning and reimagining of the Market's temporary exhibits as The Pavilions at Las Vegas Market, a dramatic, freestanding, climate controlled temporary tradeshow space showcasing some 90,000 net square feet of innovative and emerging gift and home décor resources.