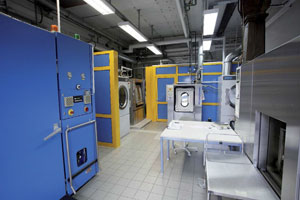 Rising wholesale prices are putting the focus on measures to maintain the value of textiles
BÖNNIGHEIM – The weakness of the euro that has been continuing for several months now is making raw materials which are imported into the EU and priced in dollars more expensive. This affects textiles more than anything: the wholesale price for cotton from Asia, when converted into euros, has risen by 15%. This means that measures to ensure that textiles maintain their value and have a long service life are becoming more and more important. Textile service companies work with the conflicting priorities of quality, profitability and sustainability. The main factors affecting how well textiles maintain their value include the quality of the materials used and whether they are professionally cleaned. To ensure, for example, that leasing textiles remain in use for a long time, it is important that textiles are processed gently. For that reason, the Hohenstein Institute in Bönnigheim has developed a model specifically for predicting the lifespan and period of use for cotton textiles so that textile service companies can work out their costs for replacing worn out materials
The Hohenstein Institute in Bönnigheim has developed a model specifically for predicting the lifespan and period of use for cotton textiles so that textile service companies can work out their costs for replacing worn out materials.
Selection of material
If a textile product is to be in service over a long period, it is essential that high-quality materials be used. It should therefore be considered when the textiles are purchased whether or not they are suitable for leasing. The Hohenstein Quality Standard 701ff provides a good guide. On the basis of this standard, experts in the modern washing laboratory at the Hohenstein Institute test how suitable textiles are for processing in commercial laundries and for leasing. They test the mechanical properties, color-fastness and, optionally, also the fit and wearing comfort. This not only provides an independent assessment at the point when textiles are being selected, but can also help with monitoring the quality of subsequent deliveries.
The experts' extensive knowledge also feeds into the customers' product development. The Hohenstein Institute's predictive model can be used to determine the extent to which cotton textiles maintain their value, and also the lifespan and service life of leasing textiles (corporate fashion and work wear). This provides the security that customers need when it comes to the longest possible service life. The predictive model is based on the technical guideline values given in technical regulation RAL GZ 992 "Professional Textile Services – Quality Assurance". The parameters that are examined include whiteness, loss of tear strength and the damage factor (chemical fiber damage)
Cleaning processes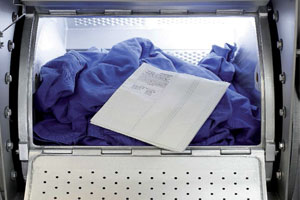 When it comes to reprocessing, the Hohenstein Institute evaluates and optimizes the processes so that a hygienic, clean and visually pleasing result is achieved. To ensure that the original values are maintained, the processes are monitored using test fabrics. The test fabrics go through a defined number of washing and drying cycles in industrial conditions. Quality criteria such as the degree of whiteness are assessed independently by neutral experts. Any existing weaknesses in the process can be identified and the cause eliminated by the laundry.
The experts at the Hohenstein Institute provide support that includes testing materials and checking washing processes, product development and advice. This ensures that the economic and technical potential of modern washing technology is fully utilized to maintain the value of textiles