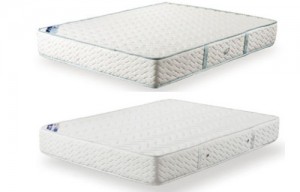 Mattress ticking fabrics continue to grow more sophisticated, from the fashionable designs to revolutionary engineering and technologic features.
The final component of a mattress is the fabric that is used to encase everything else and this too can play an important role in your mattress. Ticking, once a low-key element, is playing a bigger role in that process as mattress manufacturers compete harsher for position and attention on today's highly competitive retail floors. This fabric, called the ticking, can contribute to the luxury, performance, feel and durability of your mattress in several ways besides simply aesthetic appeal. They can also play an important role in the breathability of the outer layers of your mattress and aid in temperature regulation. In terms of breathability and moisture and temperature regulation, fabrics made with natural fibers tend to outperform fabrics made with synthetic fibers such as polyester. Some fabrics have special additives to help control temperature and moisture for those who tend to sleep hot. The best mattress ticking fabrics are made of a high quality woven or knit materials that are flexible, durable, comfortable, and breathable and will allow the underlying layers do the job they were designed to do. The world leader in mattressticking fabrics Boyteks of Turkey has recently developed an innovative fabric making you feel cool. Named "COOLER", this award-winning fabric and many others have contributed to the development of mattresses a lot. Thanks to its production technology, COOLER, the award-winning fabric of Boyteks. forms a cool feeling and supports the body stay cool thereby helping the user feel asleep and carrying the sleep quality to the maximum level. Boyteks Vice General Manager in Charge of Sales and Marketing, Onder Honi said, "We are continuing to grow successfully with our successful business strategies we constantly pursue since the establishment of our company until today, our adaptation strength to the rapidly developing and changing world, our effective sales and marketing strategy. Our 'Boyteks' brand products have become number one choice of mattress and furniture manufacturers in more than 90 countries. Boyteks was among the biggest 100 exporters of Turkey last year. In addition, we were one of the top-10 firms in Turkey's branded export. We will continue to be our country's pride in this field". Belgian Bekaert Textile Company is a multinational company developing and producing tactile, stylish and smart mattress textiles that will inspire, comfort and protect you during the night. The textile products of Bekaert dress 80,000 new beds and mattresses every day of the year, from New York to Sydney, from Helsinki to Cape Town. "We present 'Nite Vision': inspiring textiles, exciting mattresses and beds, visualized both in the virtual and in the real world. By visualizing fabrics in concepts and virtual reality, we want to inspire our customers and assist them in the development of new concepts, products and stories," says an official of Beakert. At Interzum 2015, Bekaert Textiles introduces IMAGINE, a novel tool engineered to bring product development in bedding to a higher level. IMAGINE allows to design, tailor and visualize new products in no time. Deslee Clama, one of the leading mattress-ticking fabric producers worldwide, offers different alternatives with almost 600 designs annually. The company won three awards from Interzum this year with their newly launched products. Since autumn 2012, Deslee Clama has launched a new collection, twice a year, with a new look and feel for consumers to discover in mattress retail shops worldwide. Their latest collection called "The Imagine" will be seen at Interzum this year. Bodet & Horst, another leading company in the mattress-ticking fabric development offers entire range of knitted mattress cover materials and spacer fabrics according to customers' specifications and own assortment.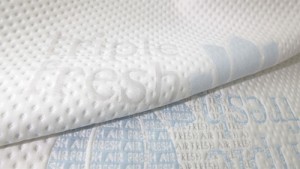 The company's Gel Streeetch has been awarded the interzum award: intelligent material & design 2015 for its unique properties. Gel Streeetch is a newly developed material which improves climate control during sleep thanks to its unique gel coating. The material has the effect of pleasantly cooling the body. Up to 30% more body warmth can be dissipated compared to similar materials, according to the company officials. One of the main functions of a mattress fabric is to help maintain the shape of the mattress and to help protect the materials in the mattress from exposure to light, ozone, solvents, or other influences that can oxidize or degrade them more quickly. In some cases a fabric can be the weak link in a mattress and wear out before other layers of a mattress. This however is rarely the case with higher quality fabrics. Fabrics also tend to vary widely in their "elasticity" with knitted fabrics being much more elastic than their woven counterparts … especially those that are tightly woven. Flexible and durable fabrics are an important part of allowing the underlying layers to form a cradle and relieve pressure so it is important that the ticking of your mattress is both durable and flexible. How it is made and how tightly it is attached will also play an important role in altering the qualities of your mattress. Fabric tightness, like quilting, can also be used as a form of zoning however this too is better done in other layers of a mattress. Fabrics can also be a part of having a more "natural" mattress as there are many available which are "organic" and very high quality. Semi synthetic fabrics like the many types of viscose/rayon materials and natural or organic cotton are popular choices here. Fabrics can also be replaced if they wear out before the layers of a mattress, as there are many sources for zippered mattress replacement covers, with and without quilting layers that can be used to recover your mattress. This can also be done professionally at a reasonable cost as well so all is not lost if you have high quality layers inside your mattress and the cover wears out before they do.