CHICAGO (PRWEB) – Proudly designed and made in the USA, Spoon Sleep wakes a slumbering industry with a mattress featuring innovative, industrial-strength foam pillars (patent pending) and strategically placed premium coil systems to comfort and cushion in every sleep position. These technologies support shoulders, back and hips, adapting to each person's sleep preferences and movements during the night, and offer balance and peace for different types of sleepers nestled together. Backed by its 100-night trial, Spoon is built for every sleep position, ensuring adaptive support to create comfort and cushioning.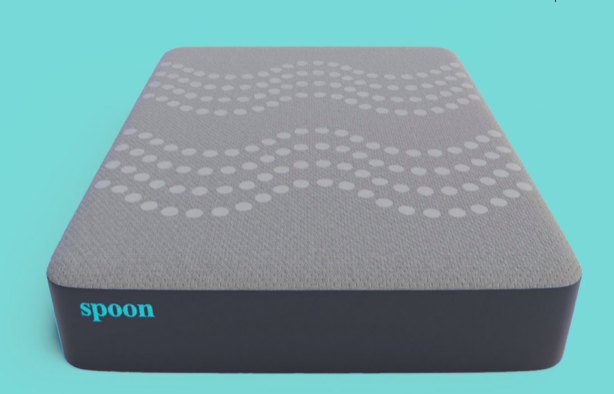 Spoon Sleep helps all kinds of sleepers achieve the health benefits of restful sleep, especially as people spend more time at home and in their beds this summer. The pillars and coil system work together to allow enough give for back and stomach sleepers for full contact along the spine. Back sleepers get enough cushion for their backsides to sink in so the lower part of the spine remains in contact with the mattress, and stomach sleepers get enough support for their hips to allow the back to be comfortable all night long. For side-sleepers, the pillars create a supportive space for the shoulders and hips for proper spinal support, avoiding tightness or pain in the necks, shoulders, or hips by giving pressure points room to sink in.
Spoon Sleep is designed with both Rely foam and Serene foam which are durable and engineered to be dense and responsive, eliminating body impressions while remaining comfortably soft with a 10-year limited warranty. With the convenience of front door delivery, the bed-in-a-box mattress provides the best-in-class support and comfort for back, stomach, or side sleepers.
"Sleep is the catalyst of how we function and contributes to our overall health," says Spoon Sleep. "We like describing Spoon as a slightly firmer but still a responsive sleep system that will make a difference in how you feel all day long. What's especially beneficial is that each person in bed can still have a comfortable sleep based on his or her weight distribution and sleep position. That's hard to find when searching for a new mattress."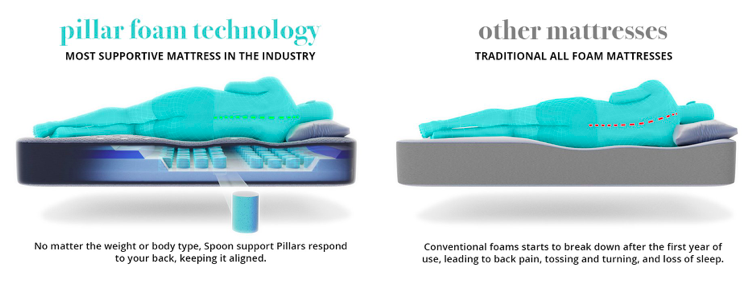 The 13" mattress features CertiPUR-US certified 1835 Base foam, 913 Quantum Edge Elite, Serene foam, patented pillar technology, Rely foam, and cool touch cover.
Spoon Sleep recommends a 30-day adjustive period for the spine to realign and offers a convenient 100-night trial to feel the body's response difference before purchase. Check out Spoon Sleep's website for more information: https://www.spoonsleep.com/