Verra ltd. continues to be the key partner of the mattress & bedding manufacturers all over the world. 
Verra Ltd. Co. has been serving the manufacturers with raw materials, components, semi-finished & complementary goods, promotional items, spare parts and tools for mattress manufacturing.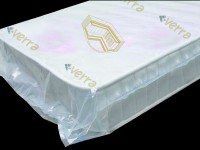 Some of its major products are;
Mattress packing bags & films,
Mattress tape,
Mattress labels (stickers, sewing, iron-on etc.)
Accessories (air ventilators, handles etc.)
Solvent based glue
Apart from the a.m. products, Verra also supplies;
Spring units (Bonnel & Pocket spring units), 
Industrial Threads for quilters, tape edges and sewing machines,
Foam (Visco gel memory, visco memory, hyper soft etc.),
Pillows,
Nonwoven felt pads,
Spunbonded nonwoven fabric,
Polyester wadding and pillow filling fiber,
Bed box components (gas springs, mechanism etc.)
Metal units as complementary products for mattress showrooms & interior projects
"Recently we have announced our new brand name Coverrest® for sewn mattress covers.
We offer the zippered covers & semi-finished mattresses with the latest trends, as well as the conventional types," says Abdullah Ümit Canan, Foreign Trade Executive of Verra. "Our Unique designs are as a result of gathering the traditional Turkish tailoring and combining them with the latest trends of mattress manufacturing."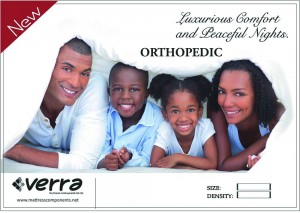 "We have devoted ourselves to be innovative all the time and never stop the R&D works. As a result, we frequently add new models to our product range.
To stay up to date, and be informed of our latest products & promotions you can visit www.coverrest.com and sign up our newsletter."

"Our customers currently enjoying the advantages of working with us, while they receive the shipments as consolidated of many materials in single shipment. By this way they reduce their storage costs, and are able to make perfectly scheduled purchases. Either they buy in bulk quantities or limited, they enjoy the helpful service, excellent follow-up, high quality material supply, customer oriented packing, and loading. In case they need and urgent delivery for component & part requirements, they get expedited shipments by air cargo or express courier. Eventually they feel the sincere cooperation with a reliable solution partner acting as their purchasing agent by protecting their rights and benefits during pre- shipments as well as after deliveries…"
#Verra #mattress #bedding_manufacturers #packing_bags #films #tape #labels #glue #Spring #Foam #Pillows