Q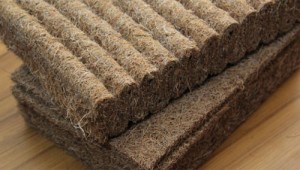 uality of a product is dependent on its raw materials and the way it is manufactures.
ALLBECO guarantees the first part of quality and innovative products; it sells quality and innovative raw materials that the mattress industry needs. Selcuk Varli, Chairman of Board, answered questions about their operations in detail:
On foundation of Allbeco
Seven years that I spent in the bedding sector showed me that the mattress sector is a growing market. In the sense of that I saw material and production shortages in emerging markets. And we realized that companies want to do something new but they are not able to find enough new materials source in the market that's why they were not able to move out from standard mattresses. We have seen local manufacturers lovely way they sell their products on the domestic market but they could not have very good focus on export markets. Therefore we have established this company to sell local suppliers products to abroad, and to bring new products from international markets to local market.
What kind of products do you sell in the market and how is your sales organization?
ALLBECO is supplying all the raw materials necessary for mattress industry. In parallel to the development of the mattress industry we are doing product presentations and selling materials according to domestic and overseas market expectations. Our principal philosophy is to buy from the world and to sell to the world. Of course we want to sell the products in the domestic market to overseas markets in an effective manner would like to contribute to the country exports. Companies use different materials according their regions. For example Africa region mostly produce foam mattress and they have started to produce spring mattress newly. So, when we offer them all necessary materials for spring mattress production in the same time we offer them pocket spring and visco foam which is new for them and next level of spring mattress production. Therefore they prefer to work with us because we give them more than their expectations.
Advantage of natural Products
One third of our lives spend in sleep. Healthy sleep has direct effect on the psychology of the people. People mostly are aware of the facts and are keen on their choice on the most helpful product. In parallel of this, ALLBECO has focused on innovative products necessary for healthy sleep. Firstly we signed a contract with LATEXCO company and has started selling of latex foam. Then we have introduced natural bedding materials with local market and Middle East and bring horsehair, camel hair, cocofelts and sea grass pads. If we will give you a few examples of these are latex foam is gotten with a natural property obtained from the milk of the rubber tree. Due to the its air circulation property, it is allowing to keep always fresh and supporting all body with same pressure which makes medical effect on the mattress. Latex foams has 10 years warranty for its anti collapse property. For example Horsehair, the most expensive mattresses made by horsehair in world bedding sector. Its air circulation abilities that prevent perspiration and act as air conditioner. Because of its property that gives bonnell spring effect on human body. Camel Hair protects from cold in winter and protect from heat in the summer. Seagrass is aromatherapy which will effect you with its special odor all day.
New products Works
We have focused world bedding market closely, The companies will see that easily, when they start working with us , they will know the new product that use in the another extremity of the world , and they will able to demand it from us. We want that when somebody says bedding components. He should first mind Allbeco.
About export and export markets
90% of our sales are export. Our major export markets are Africa, Middle East Balkans and USA. We can sell our products to all part of the world. It is our global strategy.
Little information about other companies: Allbemac
Under the brand name of ALLBEMAC, We are producing classic mattress tape edge machine, automatic tape edge machine, manual and automatic packaging machine and full automatic mattress production line . We design machines that can meet all needs. R & D studies are ongoing and continuous way we design machines that provide benefits to the production and provide operators with maximum efficiency. We're going to have our machine park to cater exclusively to the mattress industry With Coverconf Brand, you bring foreign capital to Turkey market. What is the production that you will do with this brand? What kind of mattress covers do you produce? What is the advantage and differences of this mattress covers? Coverconf is one of Europe's best mattress cover manufacturer. Cases that have production are exported to many countries. We decided to have investment on mattress covers under Coverconf brand in Turkey as moving Italian production technology and style. We want to increase our market share with this investment by offering new and innovative mattress covers. We believe that Italian style mattress covers will get good demand from local mattress manufacturers and this new products will be key to open many new export markets.
On last year's performance and 2015 plans
Our company focused on the advertisement in 2014 and became a well-known company in the mattress sector. Particularly when somebody needs innovative and natural products, they mind first ALLBECO. It was our aim for 2014 and we are successful. As an International company, new investments possibilities are very high for us. And we have always negotiating about new investments. We have 2 more investment Project for 2015. But it is early to explain for now.
What are the contributions of the mattress industry to Kayseri? The city is said to be the backbone of the mattress industry. Is this idea correct?
Kayseri is one of the most important cities when the Turkish furniture industry is mentioned. The share of the mattress industry in the Kayseri furniture industry is also very high. Being many leading manufacturers of the sector in Kayseri makes it correct to say that the city is the backbone of the sector. Presence of these big companies open the way for smaller size companies and leads the way for new investors in the sector. Besides, the production of raw materials in Kayseri helps to the competition power of Kayseri companies considerably. The mattress sector is a growing sector globally but we, as ALLBECO, always say the same thing, "Turkish mattress companies should open to the world, should closely follow up the industry in the world, should develop righter and more different products for the consumer. The sector usually dominates on regular products and this makes disadvantageous for the suppliers. The companies should develop their own mattress concepts and should put their distinction forward. This will help them to build up brand value and will make them more advantageous against their competitors." We have to develop our vision globally and utilize right regional and local strategies. To make a long story short, I could say that knowing what kind of a mattress we can sell to China will be defined as an experience obtained globally and utilized as a correct strategy regionally.