* As the most comprehensive woodworking machinery, furniture production and interior décor trade fair af Asia CIFM/interzum guangzhou is getting ready for another huge edition, 28-31 March 2018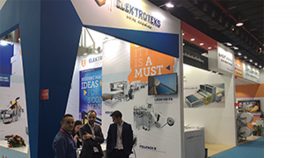 Asia's largest and most comprehensive woodworking, furniture production and interior decor trade fair in China's southern production hub of Guangzhou has been showcasing around 1400 exhibitors from 38 countries and regions, including mainland China, Hong Kong, Taiwan, Finland, Germany, Italy, Japan, Korea, Malaysia, the United Arab Emirates, the United States and Turkey. CIFM / interzum guangzhou 2018, along with the China International Furniture Fair – Office Show segment, drow some 85,000 visitors.
Many industry heavyweights traditionally exhibit in this important show including IMA, SCM, Leuco, Vollmer, Homag, Biesse, Duerkopp, Leggett & Platt, Lianrou, Okin Refined, Dongtai, Repon, Titus, FGV, American Softwoods, Kleiberit, Bostik, Jowat, Bekaert Deslee, Boyteks Tekstil, Rehau, Schattdecor, Kastamonu and Huali.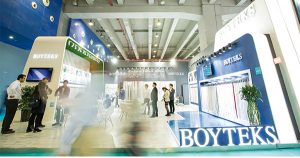 In 2017 edition, the event's amped up series of supporting activities attracted over 2,000 attendees, including the third edition of the Annual Guangdong Home Tech Fair. Invited panel experts and industry representatives shed light and shared valuable experience revolving around smart home, custom equipment, digital R&D for design, color systems and the application of natural eco-friendly materials, and provided innovative solutions and concepts.
In addition, exhibitor-initiated seminars such as the Global Color Trends Conference 2017/2018, as well as product presentations on new technologies and product applications, with the likes of the multiple purposes of Swedish Wood as a modern material and special edge banding and premium melamine products also reported strong attendance.
One of the highlights of the event was undoubtedly the special experiential display entitled "Unveiling – The Mysteries of Furniture Production" showcasing the various aspects of furniture production from raw materials, components, hardware and textile.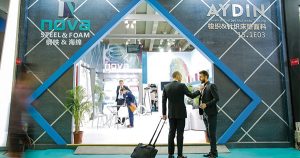 David Feng, managing director of Koelnmesse in China expressed: "Of the furniture production trade fairs in the entire Asia, interzum guangzhou has become the region's premier industry recognized event based on all measurement indicators, such as trade effectiveness, trendsetting and new product releases. This edition has accomplished gratifying achievements on all fronts in terms of scale, number of visitors and exhibitor satisfaction level, including an increasing number of overseas brands that have chosen to enter the Asian market through interzum guangzhou. I am very pleased that interzum guangzhou has been affirmed by the industry. Moving forward, we will continue to work together with the China Foreign Trade Center (Group) to provide a professional international exchange platform for the industry."
Participating at interzum guangzhou for the first time, industrial product line manager of Bostik in Shanghai, Sun Meng said: "There are numerous first-class exhibitors at the event and the atmosphere is excellent. Foot traffic has been high and the profile of visitors is especially comprehensive. We primarily target mid to high-end furniture enterprises, and we've seen scores of potential customers today at our booth. We've received visitors from the design, wood and interior decoration industries, which we are very pleased about. The organizer has provided us with great service, and we will continue to exhibit next year."