With 65% annual export growth, Bed Covers expands the target in 2017.
Bedcovers General Manager Duygu Gunaydin stated that the machine parks used in the plant are successful worldwide and that they have a system which produces their own technology when necessary.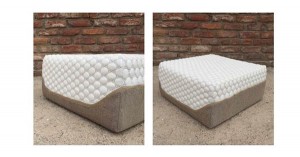 Could you inform us about the organization, development and institutional structure of the firm?
"Bed Covers is a long-established company founded in 1995 in Ankara. We have been constantly renewing ourselves since the year it was established. We are a company which can serve the world at first when it is a smaller local business. Although it seems like a very long time, it is a good process for us to look at the successes achieved. There is a long staircase that exists in the future, as long as we are in the production world, there will always be a change as we said. We will work for days when we will achieve success worldwide."
Could you tell us about your R & D work? What are the special considerations in production?
"After we have defined our concept as a team, we are starting to work on R-D and try to manufacture products that will attain the future as more and more of our end-users demand. After completing their R-D work, they complete their design in reality, which can be in our design team and departmental mastery, and then take production after planning and completing their production / daily capacities. There are many things that can happen during production. The work necessary to reduce this kind of trouble to the maximum is completed. And most importantly, the finished products go through the quality control gauges and meet the consumer."
Do you have a quality certificate, do you have a quality system in production? What areas do you notice your competition?
"The firms that we supply raw materials are firms that are specialized in their own fields, which are quality certificates, and have registered their qualifications. The machine we use in the plant has a system that produces world-wide success and produces its own technology when necessary. We are being meticulous in these matters and we prefer to be preferred in terms of the things we pay attention to in production. Our most important mission is trust, diligence and perseverance, so we are preferred."
Are you talking about your foreign trade? Which countries do you work with?
"As foreign trade we are working with many countries. In general, there is an annual increase of 65%. This positive upside also gives confidence to other countries.
We export to Germany, Hungary, the Netherlands, Switzerland, Tunisia, Kazakhstan and Italy."
What are your expectations for the sector in 2017?
"We are expecting that we can develop more economically in Turkey in 2017, and have the same development in exports."