Interzum is a unique platform for exciting new ideas and innovations – and that's something the interzum blog posts from March also prove: right on cue when the start of spring leaves its first traces in nature in the third month of the year, the leading international fair for the furniture and interior construction industries' supplying sections also turned its attention to nature.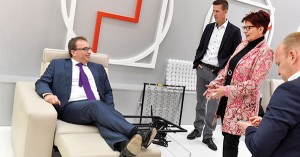 From 15 to 19 May 2017, interzum will be setting new standards and the organizers are already offering numerous services to ensure convenient travel planning and a successful visit to the fair. Every two years, as the leading international fair for the furniture and interior construction industries' supplying sections, interzum is the highlight of the year. For 2017, the motto is more exhibitors, more space and even more innovation in furniture production and interiors. Approximately 1,600 companies will be presenting their products across 200,000 square meters of exhibition space in 10 halls. It is worth taking a look in the run-up to the event at the services provided by Koelnmesse, in order that visitors and exhibitors can concentrate fully on business at interzum.
One thing is already clear: interzum 2017 is going to be an event of superlatives. More companies, more space, more halls. Many hall spaces were already practically fully booked by December – and with 150 first-time exhibitors (a 10 per cent increase) from Germany and abroad, Cologne will be welcoming more companies for the first time in May than ever before. And, in particular, its international drawing power has increased. The number of globally active companies exhibiting at the event has increased by 36 per cent in comparison to interzum 2015. And over the years, the breadth of target groups has also increased. Alongside the interior design industry, which takes inspiration from interzum for its new collections, the fair also attracts more professionals from other creative industries every year. For designers and architects, interzum has already for some time been a must-attend event.
The division into three segments ensures a clear and comprehensive presentation of the wide spectrum of components for furniture and interiors. Alongside the exhibitors and their innovations, highlights in each segment are the piazzas, that is to say the special exhibition spaces that address current themes in the industry and that – just like a market place in an Italian village – work exceptionally well as a meeting place, for chatting or taking a break now and then.
To ensure that visitors don't miss any of the event's highlights, interzum has launched the "Follow The Red Line" visitor guidance system: a red line that this year once again connects Entrance South (50 meters away from the Köln Messe/Deutz Intercity Express railway station) with all of the important stations at the fair. The concept, the name of which is inspired by the interzum logo, leads visitors systematically through all of the trade fair segments, helping them to get an organized overview of everything on show at the event. But a lot of time would need to be set aside to experience the enormous variety offered by interzum, were one to follow the line to the letter. Because even those who spend the entire four trade fair days in the exhibition grounds won't be able to view every single exhibit.
By the way, early planning is also strongly recommended with regard to arrangements for travel to Cologne. This major city on the Rhine is a popular destination and attracts guests from all over the world to its events. At the same time as interzum 2017, the Ice Hockey World Cup will be underway, so visitors should take care to organize suitable accommodation early. To assist with this, Koelnmesse has set up a convenient service for guests: by visiting the dedicated travel portal at www.interzum.de, visitors can find a wide range of services to help with their travel plans, as well as selected options for accommodation and leisure activities in and around Cologne. Hotels can be booked directly using the portal, as can restaurant reservations. Koelnmesse also helps any guests and exhibitors who need a visa for their visit to Germany: with the visa support service, the required letter of invitation is produced by a Koelnmesse service provider. By offering this help with regard to visiting the event, interzum ensures that the participation in the trade fair by visitors and exhibitors will again be a complete success in 2017.
interzum: from upcycling to the Tiny House – groundbreaking ideas
From biomaterials and green innovations to upcycling, future home lifestyles were the talking point this month, with the other major theme being interzum's importance for design, interior decor and architecture.
"Upcycling" is one of the words to keep in the back of your head at interzum 2017. It refers to a kind of recycling where selected products are reused and, in the ideal scenario, new, high-quality materials for completely new products are produced. From paper and clothing to fabrics, almost anything that would otherwise end up in the rubbish can be reused with the right creative mindset. Upcycling isn't just fun; it helps to protect our environment. Resources circulate, and less waste is produced. What's more, we get a "new" product at a lower cost or no cost at all – a win-win situation. The special Circular Thinking event area at interzum will present ideas, products and manufacturers, and provide an overview of sustainable upcycling. It's also where visitors will find chairs made from biomaterials. Seats made from plant or vegetable waste? It may sound a little strange at first, but the idea is actually as simple as it is ingenious. After all, the raw materials are freely available in plentiful quantities and can be sustainably reused. The Zostera Stool by designer Carolin Pertsch, for example, is made from seagrass that is washed up on the coasts.
Natural materials and conscious use of resources will have an immense influence on how we live in the future, probably more so than ever before. The global population is constantly growing, and supplies of resources are dwindling. This is yet another good reason to visit the special Circular Thinking event area to find some inspiration. One organization that has done just that is the American Hardwood Export Council (AHEC). Taking its inspiration from nature, the Workshop of Dreams shows just what can happen when American hardwoods are used creatively. interzum will present creative and surprising designs, including The Smile pavilion, a wooden installation.
So much sustainability and innovation should, of course, be rewarded, too. The Green Product Award is presented in 14 categories at the fair. True to its motto, "How will we live tomorrow?", it recognizes exceptionally innovative and green products.
How we will live tomorrow is also a question that the Tiny House examines. Living space is becoming more and more expensive, and this is driving the search for solutions that can offer maximum comfort in a limited space. On an area of just 8 square meters that can be surveyed at a glance, the Tiny House is a home in miniature that provides everything you need for a space-saving life and more besides: the house is on wheels, so there are no limits to its mobility.
The special Mobile Spaces event area will also explore the immense impact of mobility on our lives. Cars, planes and ships mean that we are more mobile today than ever before. Designing for these mobile spaces calls for individual solutions because they have their own specific requirements. Surfaces, textiles and fittings will be presented in the event area as ideally suited examples of mobile furnishings, especially in caravans.
This year interzum will present a host of diverse ideas for designing future living spaces. This rich source of inspiration is something that many leading names value and appreciate, not least international architect Peter Ippolito. Professor Peter Zec of Red Dot is also keeping a close eye on current developments and industry trends, and spoke highly of the development of natural materials and how they can be combined with cutting-edge technology. To do justice to these innovations, the interzum award: intelligent material & design will be presented in Cologne.
And to make sure no innovations go undiscovered, Koelnmesse is committed to representing young companies at interzum. This initiative is supported by the German Federal Ministry for Economic Affairs and Energy's (BMWi) funding program. Eligible companies can benefit from assistance with trade fair costs and have the opportunity to present their innovations and market them.
Distressed and rustic: the veneer trend for 2017

Bad Honnef. Classic looks are on-trend in virtually every sphere of life, and not least for prized wood surfaces that tell stories stretching back decades. But as old wood is often labor-intensive to process and not always cheap either, there is a growing trend today for distressing the best from the tree for an antique look. "Brushed, rough-cut, sandblasted, plane-wave and chopped looks are now on-trend – especially veneers that are individually printed to the customer's specification," explains Ursula Geismann of the veneer association Initiative Furnier + Natur (IFN).
Lovers of individual, rustic textured surfaces are spoilt for choice today: the textures available range from knotty oak to historic wood and beam oak in its different color variations, all the way through to knotty spruce, Swiss pine and larch, both with and without knots – there are no limits to what the user, decorator or renovator wants. "The highly attractive surfaces are suitable for every imaginable application in furniture and interior construction," explains Geismann. Classic, smooth veneers on the other hand are used for furniture surfaces and in interior construction as well, but they are also appearing in car modification packages and in very high-end products such as veneered skis, bags, glasses, kiteboards, bathtubs, book covers, shoe insoles and mouse pads. "Anything you like goes. The immense spectrum of veneer looks makes it hard to decide. But anyone who chooses a unique piece from the best of the tree will enjoy it for many years and decades," says Geismann.
Mobile Spaces: special event area at interzum 2017
Whether in the car, airplane or caravan – mobility is an essential part of our lives. So what will private transport look like in the future? In the "Mobile Spaces" special event area, interzum 2017 will show how surfaces and materials can alter the character of such spaces.
Electric cars, digital networks and autonomous driving are pioneering developments that will have an increasingly significant impact on our mobility. And the demands made on materials and surfaces used in the fitting out of mobile spaces are also changing. For this reason, the upcoming edition of interzum will be presenting trends in mobility in a dedicated special event area under the title of "Mobile Spaces". In doing so, the industry's leading international fair will be addressing the particular relevance this subject has for the furniture and interior construction industries' supplying sections. Many of the exhibitors at the fair are equally active in both home furnishing and the fitting out of vehicles. New products and ideas from the conventional furniture sector, such as surfaces, textiles and fittings, are likewise used in cars, ships and airplanes. Innovative materials and features play just as important a role in mobile spaces as they do in homes.
However, the demands on mobile spaces are often even higher than for a home environment. In particular, the specific requirement for low weight calls for special solutions. This is another field where the two disciplines stimulate each other because lightweight design is immensely important not only in rolling, floating and flying spaces, but also in residential construction and furnishing. Transportation and logistics call for cost minimization and low weights, not least for sustainability reasons.
In its "Mobile Spaces" special event area, interzum will focus above all on "rolling spaces", examples of which include specially fitted-out motorhomes such as the "Empire Liner" from Morelo. High-quality details in this luxury motorhome's interior, such as multi-layered furniture fronts and solid surface materials, have until now not been used in this segment. The "Pioneer" concept car from the surfaces specialist Hornschuch is another extraordinary mobile space that will be on show in the exhibition and that shows the impact a fresh understanding of mobility has on car interiors.
The "Mobile Spaces" special event will take place at interzum 2017 at the Textile & Machinery Piazza in Hall 10.1.
#manset, #mobile, #spaces, #interzum, #cologne, #AHEC, #Geismann, ##