Samed Altıntaş, owner of Apex Adhesive, said that they are developing new strategies to reach new customers in Europe and America and to increase their share in these markets.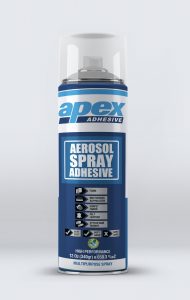 Samed Altıntaş, who gave interviews on many topics from exports to production, innovation to R&D, said that they would double their production capacity in the next 6 months and that they were pursuing a more inclusive export strategy for 2024. Stating that they are working to offer the best product to their customers at the most affordable price, Samed Altıntaş stated that they are constantly continuing the R&D and innovation studies necessary for this and that they are launching cost-effective innovative products to the market.
We reached more than 40 countries
Apex Adhesive places a special emphasis to enhance its export operations since the day it was founded. We put significant effort to increase our penetration in foreign markets to support the Turkish bed industry's target of USD 3 billion export in 2024 and going forward. Compared to the past year's figures, we have expanded our international footprint by reaching more than 40 countries across the globe via penetrating into the new markets such as Kuwait, Qatar and Romania. We have adopted an overarching export strategy for 2024, to increase our market share in the current markets and capture additional customers, especially in Europe and the Americas. In accordance with this strategy, we have built an experienced sales team to specifically focus on main continents such us Europe and Americas.
We offer best-in-class products at an affordable price
Production stands out as our first priority to achieve high customer satisfaction by providing best-in-class products with reasonable prices. On the back of technological developments, the Mattress Industry demands high performance adhesives to produce innovative, comfortable, and healthy mattresses. Apex Adhesive, with its strong heritage and expertise in the mattress vertical, positioned itself as a trusted partner for its customers by providing high bond strength in single or double-sided applications, optimum open time, and maximum temperature resistance. We believe the importance of seamless automation and environmentally friendly production is key for achieving our zero carbon targets both as a company and as a country. With regards to this, we continuously follow the most advanced production methods and standards across the globe and enhance our processes in line with these developments. With our current product portfolio, we offer numerous adhesive types which differentiate according to the customer requirements such as viscosity, adhesive strength, color, size, etc. Most of our products available in Liquid and Aerosol Spray form.
We offer best-in-class products at an affordable price
From an innovation perspective, we carry out continuous R&D studies to enhance the performance of our existing products and develop new solutions as well. We strongly believe that continuous R&D studies is a must to become a leading player in a fast-changing environment. As Apex Adhesive, we would like to be among the pioneer players who produce high performance and cost-effective innovative products in the sector. As part of our R&D studies, we are currently finalizing the quality test of numerous products including, Silicone Spray. As a company, we aim to reduce import dependency in our domestic market and export our products to various geographies. We will be sharing additional information in the upcoming months. Our next step in mattress adhesives is to develop water-based and hot-melted adhesives for every type of mattress and various application processes.
Within 6 months we will double our production capacity
Investment activities constitute the backbone of our growth ambitions. In accordance with this we heavily invest in our supply chain, procurement, and sales network. We would also like to double our production capacity in the next 6 months to meet with the high demand from our customers. We are planning to share additional information about capital expenditures in the second half of 2024.
Fairs are of great importance for foreign trade
In terms of fairs and exhibitions, we see these organizations as an opportunity to introduce our new products to the market. Fairs are very important for us to improve our trade volume, especially in foreign markets. As an upcoming event, IBIA EXPO has a unique position by being the biggest fair of Eurasia and the second biggest fair of the world in Bed Side Industry and Technologies. We look forward to meeting with visitors in IBIA EXPO at Istanbul Expo Center between September 28-October 1, 2023.