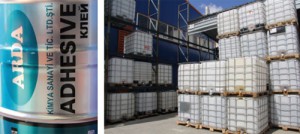 Developing water-based adhesives Arda chemicals fastened the process.
One of the inputs of bed manufacturing, new adhesives are also developed in line with technology. Mustafa Turunc, general manager of Arda company, introduced their products and company.
On research activities
We watch the needs in the industry to develop new offerings. Now, we are working on imprinting adhesives and water-based glues. We developed a new system by polymerizing of emission with water. Foams can be glued in only 50 seconds with these water-based glues as in the solvent type adhesives. This is aggressive glue. We are one of the two producers in the world in the field of imprinted adhesives. Only Japanese produce this.
On the company
Arda Chemical Company one of the companies in the manufacturing glues and auxiliary materials for furniture, upholstery, shoe, bedding and automotive industries in Istanbul Paint and Varnishers' Organized Industrial site. It was established in 1997 under the name Mekimsan Chemicals Ltd. located in İstanbul-Maltepe. The company changed its name to Arda Chemical Company in order to meet growing demand for its products.
On quality approach
The Company's main purpose is to continuously investigate new ways of providing customer satisfaction and of improving quality by accurate product understanding with regard to customer needs. Customer satisfaction is the most important principle of our quality understanding. "Plan, Do, Check, Act and Manage" principle is applied. The main purpose of these principles is to meet the expectations in price and quality also to provide the most perfect service.
On the mission of the company
Our target is to develop better products, production technology and to increase business potential at all sectors, including furniture, upholstery, shoe, bedding and automotive industries. Our mission is to offer products and services that meet expectation of customers by being aware of the changing needs of our customers with our flexible solutions.
On the vision
Our vision is to be the most preferred company in Turkey by providing the best price and quality.
Our Values
Development of new products in the direction of customer needs are important as the servicing product and information needs of customers. Arda Chemical had important aims carrying itself to the future when it was founded in 1997 at İstanbul-Maltepe. The values have caused that Arda to being globalize .We have been in the race to please customer much better and offer more quality products with regard to developing market conditions. In this direction we have grown and developed for meeting the customer's expectations.