Boyteks, which always stands out with its innovative works, is preparing to manufacture many products such as masks, protective clothing, gowns, gloves and mattresses with its antiviral fabric it developed against viruses.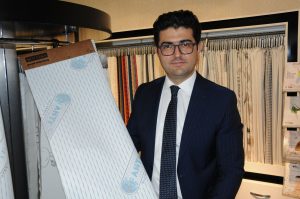 More than 100 kinds of bedding fabrics with different innovative features are produced at Boyteks AŞ, a textile company operating in Kayseri Organized Industrial Zone, within the body of Erciyes Anadolu Holding, managed by the Savings Deposit Insurance Fund (SDIF). While bedding fabrics are exported to all over the world, an antiviral feature fabric has been developed, which is stated to be effective against viruses in order to contribute to the new type of coronavirus (Kovid-19) epidemic process.
Boyteks AŞ General Manager Mehmet Yıldız stated in his statement to AA correspondent that they exported to 105 countries from Kayseri last year and had a sectoral share of approximately 10 percent in the global market. Yıldız, who said, "1 in every 10 beds in the world is produced with our fabrics," explained that they met the fabric needs of largest global mattress manufacturers from the USA to Chile, from Japan to China. Yıldız emphasized that they have invested heavily in technology and R&D studies and said: "When the epidemic started in China, we were brainstorming with our R&D teams to answer 'how we can use our innovative experience, how we can contribute to this process." We worked on the fabrics with our know-how and R&D experience about 'how to neutralize the virus.' The antiviral fabrics we have developed as a result of our studies will have a wide range of uses. "
"The protein and fat layers of the viruses on the fabric deteriorate"
Boyteks R&D Manager Özkan Yıldızhan reminded that they have had significant production on hygiene textile in recent years and that they had done an important study on "Zika virus" in 2017. Stating that they had prepared and succeeded in a fabric project to eliminate this virus that had appeared in South America, Yıldızhan also said, "We used particles with high antiviral properties on the textile surface. We applied these particles to our fabrics with a special polymer technology and special processes we formed a hygienic surface. "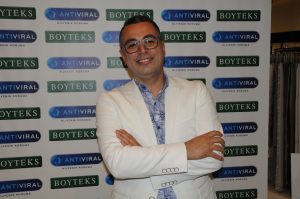 "We got the test reports from Germany"
Yıldızhan gave the following information about the antiviral fabric they developed: "The protein and oil layers of the viruses that come on the antiviral fabric we have developed are deteriorating. The virus automatically becomes inactive. Thus, a more hygienic textile surface is formed. One of the most important points after producing the fabric is the test process. There are a number of test methods according to international textile standards, this particular one is an international standard called ISO 18184. It is a method of testing antiviral textile materials. We received the test reports from Germany. Later, it was reported by Erciyes University that the product development studies, test methods and test results were realized in accordance with the standards. "
Patent application
Stating that they have completed the process in this way, Yıldızhan said, "At this point, we have made our patent application about the production with antiviral textile fabric to the Turkish Patent and Trademark Institution about 1 month ago. It is now registered." Yildizhan added that they would be aiming to deliver this product to their customers quickly within a planning, which they consider as a project in the framework of social responsibility.
#boyteks, #fabric, #kumaş, #textile, #antiviral,