Doqu Home is strenghtening value added product range which will  gain acceleration to the  Export while they are contributing to sustainable manufacture .
IBIA Expo – Mattress Sub-Industry and Technologies Fair, with the participation of over 300 leading companies and manufacturers, hosting nearly 20,000 domestic and foreign buyers from 14 countries, İBİA Expo offers a unique meeting platform to private buyers and leading manufacturer brands by creating a business network .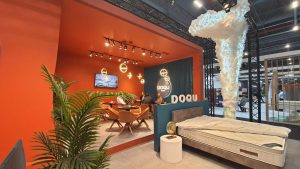 Doqu Home as new and dynamic brand of the sector took part with its home textile , fiber , bed products in IBIA Expo . Doqu Home took its place among the most powerfull brands in home textile area and in 32 category with its 1686 product quality , yearly 3 million pieces product power and in fiber area Daily 30 tonnes poliester processing  capacity .
Doqu Home general manager who shares his evaluations stated that " we are extremely appreciated for attending to IBIA Expo Exhibition which is organized for the first time . We spent a nice four days in terms of providing our Doqu Fiber brand recognition , gaining new customers , and meeting with both bed side industry and different sectors in IBIA Expo Exhibiition . It is satisfied for us to get attention from  both domestic and foreign customers and companies in the exhibition which we attended as fiber manufacturer for the first time .We are noticing that there is a tendency to natural product group when we look at the sector and the market in general . Our brand which adopts modern and innovative approach is supplying automotive sub-industry ,insulation and textile sector besides its production that we carried out on bed and furniture sector "