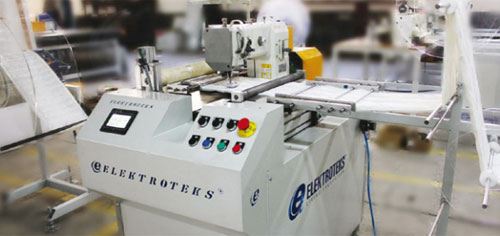 Having one of the largest production lines in Turkey, Elektroteks starts production in its new facilities of 12 thousand sqm.
Recently engaged in the manufacturing of bed production lines Elektroteks expands its facilities integrating all phases of manufacturing process. General manager Orhan Guler, informed about his company and machinery they produce.
Do you mention about your investments and new facilities?
We have been producing machinery for bedding industry for 6 to 7 years. There is a great gap for better technologies. We have emphasized on the automation of machinery we produce. We can offer productive software to our customer. Now we extended our factory to serial production of the machineries. Business is going well. We have founded 7 to 8 bed factories for the major companies in mattress manufacturing within one year. In our 12 thousand sqm of new factory, we have integrated all processes in one location. Earlier we have been outsourcing some of the processes such as painting and heat treatment. We plan to produce new machinery as well.
What kind of machinery they will be?
We made a machinery line capable of stitching four sides of the fabrics that was processed in quilting machine. Thus one machine can do three others' work. We have planned more machinery, but are now kept close. It will be disclosed in the future.
What is the outlook in the field of machinery production in Turkey?
We have to avoid the cost based production in order to have a big country branding all over the world. We are both behind in the fields of mechanics and automation. Europeans try to offer the best, while we try to offer what is the cheapest and need more spare parts. It is not good. Our customers see that we try to do the best and the most durable machinery, so they keep buying from us.
New facility means more production. What about exporting them? What is your target in abroad?
With this facility we will improve our sales in Middle East and in Latin America. We have already been in other markets effectively. We also try to shorten our order cycles for more exports.
How are your activities in trade fairs?
We put emphasis on fairs. We participated in two fairs in three months. We plan to be in four fairs including the Interzum in May and Sleepwell in October. Last year Sleepweel was good, we got satisfactory feedbacks and orders. This year we expect more of these events.