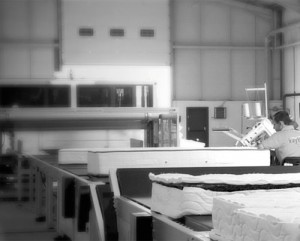 Mert Makina was established on a land of 6.000 square meters in Kayseri in 1994. The company has been producing mattress and furniture production machineries and has been exporting these products to more than 65 countries for nearly 20 years. 
Mert Makina was established on a land of 6.000 square meters in Kayseri in 1994. The company has been producing mattress and furniture production machineries and has been exporting these products to more than 65 countries for nearly 20 years. Mert Makina has more than 2000 machineries working in mattress production all over the world.
Mustafa Nebi Doğan of Mert Makina detailed their operations: "For the first time, Mert Makina has entered to the mattress production by manufacturing the mattress tape edge machine in 1900's. Shortly after, we manufactured our first mechanic multi-needle quilting machine. We are one of the first manufacturers of multi needle quilting machines in Turkey. Over the years, we have added step-bystep different kinds of machines to our product range. When it comes to 2000s, according to time's requirement we have started to manufacture automatic machines.
Now we are first and only manufacturer that be able to establish complete mattress manufacturing facility in Turkey thanks to full range of the mattress machineries under the same roof. Mattress machineries can be divided in 5 different segments like; quilting machines, tape edge machines, coiling machines, packing machines, automatic production lines.Mert Makina has the widest mattress machinery segment in Turkey. That is one of our most important features that we are able to manufacture complete mattress manufacturing facility. Generally in our sector, mattress machinery producers manufacture either spring machines or quilting machines or the other mattress machines like packing machines, tape edge machines, border machines, etc.
1. Computerized Multi Needle Quilting Machine (Lock Stitch- Chain Stitch)
Mert Makina is one of the first quilting machinery producers in Turkey. We have 2 kinds of computerized quilting machines for mattress and soft furniture production as chain stitch and lock stitch. The most important feature of Mert Makina's machines is that they have both strong parts and special software program. Siemens, Ina, Skf, Lenze, Bonfigrioli, that is, our important business partners, raise the worth of our quilting machines. We offer also panel and border cutting machine that works with perfect compliance behind all chain and lock stitch quilting machines, thanks to its high speed and millimetric sensitivity.
2. Tape Edge Machine (Automatic or Manuel)
Manual mattress tape edge machines are one of the most essential machine in mattress manufacturing sector. Manual mattress tape edge machine of Mert Makina is still used from Middle East to Europe, from Far East to America. In the last 10 years, automatic mattress tape edge machines get more popularity. These automatic machines that are preferred by many mattress manufacturers, both sew mattresses in every size fastly and easily and maximize the quality with the edge tape's smooth appearance on the mattress. Used parts of machine, special automatic slow down system in the corner, antistatic belts are the distinguishing features of Mert Makina from the other brands. For that reason, Mert Makina's automatic mattress tape edge machine is the most preferred machine in the sector.
3. Mattress Packing Machine (Automatic or Manuel)
In the point of automatic mattress packing machine, we claim that we are the best manufacturers in Europe. Mert Makina's automatic mattress packing machine which is known and proved itself, is nowadays in using in mattress manufacturing each corner of the world. Our prominence is so high that our customers don't ask as automatic mattress packing machine, they ask by saying directly our product code "MMS-2200".Manual mattress packing machine still responds to the needs of low capacity manufacturers or special product manufacturers.
4. Bonnell Coiling Machine & Bonnell Coil Assembly Machine
10 years ago, Mert Makina has started to manufacture coiling and assembly machine just to complete full range of the mattress machineries under the same roof. In the following years, we developed these 2 machines according to the sectorial demand and our experience. As a result of the high demand, we have doubled the capacity of this section in 2000s. Now, we are working on transforming the bonnell-coiling machine together with bonnell coil assembly machine to an automatic machine and also we will present a pocket spring machine on sale in the next year.
5. Automatic Mattress Production Lines
In the last 10 years, Mert Makina has concentrated to automatic mattress production lines and automatic solution systems. We are involved in many important and selected mattress production project and we established a lot of automatic mattress production lines in many parts of the world.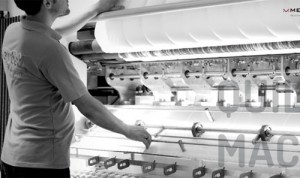 We design most appropriately the project of automatic mattress production lines according to the demands from the customers. We sell not only machines; we also work together with our customers such as business partners and share our know-how with them. Apart from all these segments, we produce mattress border machines; roll fabric cutting machines, spacer machines, and spring frame fatigue & grinding machines in line with the demands from the sector.
Our most important advantage is that we are the unique company who produce full range of the mattress machinery under the same roof. We are able to supply almost %90 mattress production machineries therefore we can prepare "KEY TURN" mattress factory projects. For that reason, today a lot of new companies choose Mert Makina.
The profit of our customers is also that they have only one contact person for all mattress production machines. They know each other starting from the request for quotation during the full time of using the machines. Therefore they save their precious and costly time. Why do our machines have popularity in the worldwide mattress production sector? Because, we combine the advantages of European and Chinese manufacturers. Sure, we can't still compete with Chinese prices because we don't compare our machines' quality with them. Our quality goes head to head with the European's. That means we are the best choice who combines best quality with reasonable price. You can be sure that all over the World in all mattress factories our machines are in using. Besides our quality and cost advantages, our flexible and wide after sales services are also a sales arguments.
As we mentioned before, the manufacturers from Far East are completely focused on low prices, not on quality. Because of this wrong focus, the lifecycle of their machines is shortened. In the opposite of that we are focused on quality, so we can give long years warranty thank to raw materials with best quality – all electrical equipment from European and iron steal from Turkey. In addition, qualified workforce is one of the most important factor for our qualified production. On the other side, when we look at the European and American side, we see clearly that the manufacturers decrease their capacity and they have to reduce their R&D budget.
We forecast that they haven't anymore added technical innovations to their machines. This helps us to catch their technical stand. In the meantime, they desire our machines under their private label. Even some of them offer us to sell their brands. We know very well that we have some lack about the automation and machinery design but we will become one of the most important centers of mattress machinery industry latest in 5 years. First of all, machinery producer should be known the needs and requests of the mattress producers. During these efforts, we are always aim to get more quality on our machines, these will boost the quality of the mattress and hereby the needs of the mattress producers are answered. One of the most important and also the most costly production factor for mattress producers actually in the entire sector is the workforce. We should be aim always to minimize this costly factor.
Our target is to produce the machines with more automation and fewer workforce this effort leads to raise up the performance and achievement of the mattress producers. This means that machine and automation should be designed to make life simpler to give you the ability to make things faster, better, wide range of specialized equipment in the mattress industry the conditions and requirements of day. In addition to this automation process, we should consider its design and ergonomic in the aesthetic concerns.
The offered technical service takes also an important place to improve the sector. Research and development is indispensable for Mert Makina. Our current situation demonstrates our improvement during the last 20 years. Moreover we have a separate R&D department. To concentrate the R&D workings, we located this department separately from the production, within the structure of Mert Makina but in a completely independent area. This independent working area is named as MertTech. Thanks to this R&D team, we are consistently improving our current machines according the requests of our customers and the ever-changing needs of the sector. So we are able to work on innovative products, which are more speed and functional. We would like to announce from here we added 2 surprise machines to our product range.
These 2 new surprised machine introduce you at Interzum Cologne / Germany in 05- 08 May. In all over the world, the mattress sector is getting more development. Mert Makina plays an important role in all this development. Our geopolitical position, high quality of raw materials and components of mattress, flexible technical service mentality make us successful. By these factors, if we spend more effort in differentiation, we will be unique and indispensable in the mattress sector.