Turkish Exporters Assembly (TİM) continues its efforts to ensure that Turkish exporters get more share in the Chinese market. Within this scope, an organization has been initiated for national participation to China International Import Expo (CIIE), the world's largest import expo, under the coordination of TİM. Having opened its doors to visitors on November 5, the expo is hosting 59 Turkish companies and 5 institutions promoting their products in various sectors ranging from food to cosmetics and from medical to textile, while participants are showing great interest to the shows and events held at the Turkish booth area.
 TİM's President İsmail Gülle uttered that their target is to have more shares as Turkish exporters from China's import volume which is expected to raise to 10 trillion dollars in the next 5 years.
Held by People's Republic of China, "China International Import Expo (CIIE)" has opened its doors in China's Shanghai city. 59 companies and 5 institutions represent Turkey in the expo under the auspices of the Republic of Turkey, Ministry of Commerce and in coordination with Turkish Exporters Assembly (TİM). While brands promote their products and find new business opportunities in the expo, various inspiring activities such as tasting activities, music recitals, paper marbling and tile art are performed at Turkey country booth area for the promotion of the country. In the "Food and Agricultural Products" hall, on the other hand, food shows and tasting activities are organized under the name "Turkish Tastes".
Turkey Promotion Group (TTG) marks promotion of our exportable products with supportive events in the expo. Designing contents on China's most reputable 100 websites, TTG aims to promote the products on the "Made in Turkey" wall in the expo area by featuring Chinese social media celebrities with high access power experiencing these products personally. The expo will continue until November 10 and is expected to attract more than 3,000 exhibitors and 450,000 visitors from more than 150 countries this year.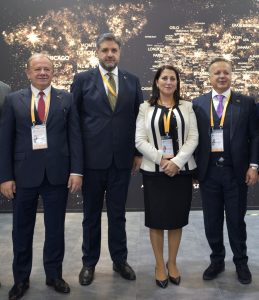 "Our target is to get the share we deserve from 10-trillion dollar volume"
Making evaluations regarding the expo, TİM's President İsmail Gülle stated that they work to ensure that Turkish exporters get the share they deserve from China's import volume, which is expected to reach 10 trillion dollars in the next 5 years. Reminding that they participated in the expo last year for the first time with 38 companies, İsmail Gülle said, "The number of companies attending the expo from our country is increasing every year. The cooperation agreements made in 2018 equaled to around 620 million dollars. We expect greater interest and a higher number of trade agreements this year. The sluggish demand in the EU market makes Far East countries and especially China far more attractive. We see this also in our monthly export figures. Our 10-month export figures in 2019 confirm that we are now directed towards the demand in the Far East market. For instance, exports to the Far East have a significant contribution to the 18% increase in exports of our chemicals sector. In order for other sectors to respond to the increasing demands in the region, we, as TİM, have increased our activities in this region as well.
Noting that they are focused on bringing balance to our mutual trade with China, İsmail Gülle made the following statement: "In this sense, the concrete steps we will take are sizeable enough to have a significant share in the increase of our exports. We are currently exporting raw materials such as mines, metals and sulfur in highest amounts. Therefore, we continue to support our exporters to take part in many expos and organizations such as the one that we attend today in order to direct our value-added products to this market and promote the quality of Turkish export products well in this region. This comprehensive import expo offers remarkable opportunities for our companies. As the integration of Eurasia to the world within the framework of the Belt – Route initiative will bring with it large scale projects and new trade opportunities, it is invaluable to build stronger relations between China and Turkey in the sense that mutual trade leaves permanent impact. National participation to such export – import expos will lead the way for taking larger steps with China based on the win – win formula within the framework of Turkey's multifaceted foreign policy."
"We have full faith that we will come back from China with prosperous cooperation agreements"
 Istanbul Chemicals and Chemical Products Exporters Association (İKMİB) Chairman of the Executive Board Adil Pelister, on the other hand, said, "As İKMİB, we organized the national participation organization of Turkish companies in China International Import Expo for the second time this year. If may I say so, we have made an expedition to China with 59 leading companies in the fields of construction, food, electronics and cosmetics. In addition to the 136-suare meter country booth area for Turkey, our companies from various sectors exhibit their products in an area of 1496 square meters and our products attract great attention. We are performing an effective work to show the achievements of Turkish exporters to the Chinese market. The most important part of the expo for us is to represent and promote our country successfully."
 Pelister continued as follows: "We are confident that we will come back from China International Import Expo, where we made important collaborations last year, with good news this year as well. With China International Import Expo, the private sector, public institutions and manufacturers in China have the opportunity to come together. While we import to China with an amount equaling to 21 billion dollars, we export around 3 billion dollars. We believe that we will close this gap with the contribution of our collaborations at the expo."
#Turkish Exporters Assembly, #Turkish Exporters, #TİM, #china, #Çin, #ithalat, #ihracat, #export, #International, #İsmail Gülle, #companies, #expo,