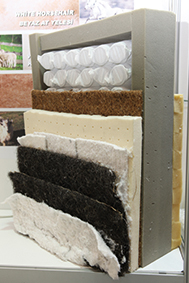 It is a gift of true comfort for humans. Felts are available in different colors. There are 100% wool pads that are available in several sizes and can be used as a mattress topper, car seat pad, rug, camping pad, massage pad or anything else you can think of. Wool felts work great as a top layer on your bed since they are hand washable. Thick and cozy, wool felts are the perfect addition to every bed.
Felt may be the oldest fabric known to man, and there are many references to felt in ancient writings. Since felt is not woven and does not require a loom for its production, ancient man made it rather easily. Some tribes made clothing, saddles, and tents from felt back in 700 B.C. because it was strong and resistant to wet and snowy weather.
Mattress Felt, Cotton Felt, Hard Felt for Mattress are the common names used to recognize the Mattress Felt. Mattress Felt is made from textile recycled materials which are firstly punctured, producing the non-woven material, without weave or scheme. These mattress felts are soft, hard, super hard and hardness with cushioning. They all are prepared and manufactured as per the specs and features given by the customer.
Felt is a textile that is produced by matting, condensing and pressing fibers together. Felt can be made of natural fibers such as wool, or from synthetic fibers such as acrylic. Historically, felts were the only material used for underlays but today they represent only a little part of the market while the urethane foam accounts almost 80% and sponge rubber, the reminder.
Felt underlays provide firmer support and, therefore, are often used in high traffic areas in commercial establishments. They are also used in conjunction with area rugs. In mattresses they are used for reinforcement.
Turkey has some respectful felt manufacturing brands such as Milkay, Şiteks, Punteks, Kayteks,  Feltturc, Simfelt, Felteks, Polifelt,  Gazi Keçe, Karfelt, etc. The country also has companies manufacturing felt-producing machines such as My Techno Makina, Savsan Makina, etc. As Murat Cengiz, general manager of My Techno Makina, put it: "Turkey has been the felt manufacturing center of the world."
Nowadays, accession in felts has made the mattress industry to offer technical characteristics which helps in offering unmatchable bed comfort. Felts for mattresses are available in wide range of thickness, hardness, colors, compositions, sizes, specifications and number of layers. Felts have extensive use in the manufacturing of mattresses. They are used to keep foam in its intact position and work as a protective material. In layered mattresses, multiple felts are layered. The top layer of felt always provides protection to the mattresses.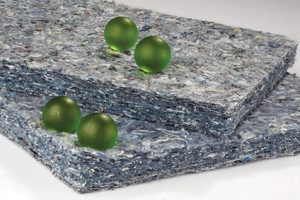 Felts include SAE, sheet, wiper, sleeve, needled, filter, gasket, high temperature, equestrian, craft and percussion felts. Felt is available in materials including wool, rayon, and polypropylene. High temperature felt materials include Nomex, Kevlar, polyester and carbon precursor felts. Felts applications include dust shields, wipers, grease retainer washers, vibration mountings, polishing, glue and wax applications, pressure and cushioning rolls, lubricating, padding, oil retention, seals, spacers, harnesses and saddlery. Capabilities include die cutting for SAE grade wool and coated felts, non-woven synthetic materials, coated and impregnated felts, corks, foams, and non-metallic materials.
When designing a spring mattress, felt is an essential element in determining the level of comfort. In order to obtain a finished product that is more rigid or soft, felt having the right level of rigidity must be used. As a matter of fact, mattresses are basic comfort products that are made up of various layers which are what determine the quality of rest. Each layer has a specifically determined function. The first mattress panel is the top part that guarantees the user's comfort. Its composition varies according to the mattress model and the user's preferences. The second layer is high density foam layer which provides uniformity and uniform comfort. The third level is comprised of felt mats whose main purpose is to provide protection from springs in the case of hard felts, or to lower costs in the case of soft felts.
Natural materials without toxic emissions are becoming increasingly important, especially in the mattress industry. Felts made of virgin or recycled wool and cotton are examples of such materials. 100% pure wool felt needled punched felt is made out of 100% pure washed wool and is also made without any Pes additives. It is a natural, warm and fire-retardant product. Needled punched felt is made out of various cotton recycled textile fibers. It is used for the filling of the mattresses for economical types.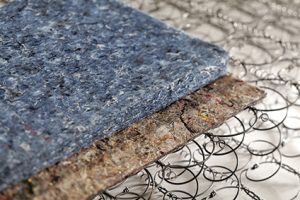 Felts can be produced from wool and from some other animal fibers such as goat, rabbit or camel hair. The fibers are laid over each other in layers until the desired thickness, width and length are achieved. This produces a web-type structure which is then beaten, pressed and squeezed until the required level of felting is reached. The felt can be strengthened by stitching, melting or dissolving small areas of fibers, or by gluing with adhesives.
Another type of felt is called needle felt. This can be produced using almost any type of fiber. Synthetic fibers are increasingly used for this commercially. This method uses felting needles which are arranged together in a needling machine. Fiber webs are layered on top of each other and are fed into the needling machine. The needles are pushed through the fiber webs in order to drag a number of fibers to the bottom layer of the webs. This makes loops in the fibers which stitch the webs together.
Properties of felt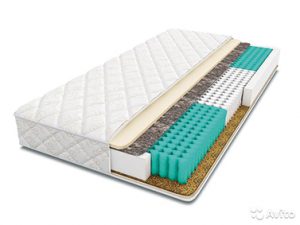 All felts absorb water and are good insulators. Felt can be steamed and pressed and formed into permanent shapes. This means that felt can be used in many different ways. Commercial uses include hats, billiard table coverings, insulation materials, collar facings for coats and jackets. Needle felts have additional property of being elastic and lightweight compared with other nonwoven fabrics. Their uses include interlinings, mattress covers, upholstery materials and wadding.
Products manufactured for the bedding and upholstery industry are in both out sizes and roll-form with weight ranging from 750 gm2 to 1800 gr2. There is a range of products from layered felt, heavy needled felt through to bonded felt, both unbacked and backed, with a range of different backing materials such as woven polypropylene or Typar (DuPont).
Wool felts are a wonderful 'felting' between nature and humanity. The felts provide a resilient yet firm sleeping surface that we can easily adjust by adding or subtracting felts according to our preferences. Wool felts feel wonderfully supportive and firm, yet yielding, and can easily be adjusted by adding or subtracting felts according to one's needs.  For additional 'give', slats can be padded with 2-inch latex strips (these are glued to the slat using non-toxic glue).  The latex padded slats reduce the number of felts needed to provide sufficient 'give' while only a minimal amount of latex is used.  The latex can be protected with cotton or wool sleeves (wool is better because of its resistance to molding.)
Each felt is mainly produced by pouring hot soapy water on batting and then stomping on the wool. It means you can start making felt with nothing more than some bubble wrap, warm water and soap but once you've started, you're likely to get hooked and you will want to experiment further. This process causes the fluffy wool batting to shrink into a dense solid pad. The process is completed by washing the felt in a washing machine.  The result, is a beautiful, thick, hand washable wool pad that can be used in so many ways…
Specialty fibers can also make wonderful felt or can be combined with wool fiber to give a luxurious feel and a different texture. Fibers such as alpaca, angora, bamboo, camel, cashmere and silk are all available. For color blending, hand carders are useful, or if you are working on a larger project a drum carder is a very handy tool. This will produce blended batts of wool that can be used in many different ways.
Gürkan Kanlı, proprietor of Siteks, explains: "Mainly there are 3 separate felts in a mattress. First is the product combined by heat processes and used on the springs directly which is called hard felt. These lessen the hard effect of the spring and spread it on the surface. They spread the weight of a person given to the mattress and prevent it from being concentrated on a certain point. Our Company can produce hard Felt from 300 grams to 3,000 grams. Now, we have 8 production lines. Our monthly production capacity is 3,500 tons.
Another sort of felt is filling felts. These are medium-hard felts used between top cloth and hard felt. They can be produced in different grams and with different thicknesses and they may show variation depending on the countries and their mattress cultures.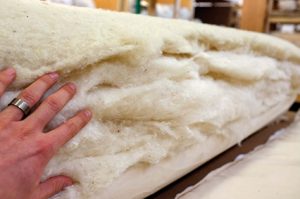 For the mattress, on the top layer foam rubber or fiber is used so that the quilting seems beautiful. Here, the third type of felts, felts for quilting begin to function. These are softer that the others. And they make the quilting seem more beautiful. And these are also produced in different grams and with different thicknesses with the needling technique. In fact, we can classify the Felts for quilting used by us in this area into 3, as well. These are: recycled cotton Felts, original wool Felts and original cotton felts."
Gürkan Kanlı details the way of Siteks, "We are producing a kind of flame retardant felt. Especially in the countries like England and America, non-flammability is preferred very much. Preventing burning of the completed mattress is a priority there. Besides, flame retardancy is desired in hotels, in military, in hospitals and in prisons. And for that purpose, we are producing special non-woven clothes. These products are used right under the completed clothes. Materials like foam rubber or fiber are located thereunder. Thus, non-flammability of the mattresses or non-growth of the fire, in case of a possible fire, is ensured. In a sense, it functions as a barrier. You can ensure that flame retardancy in two ways. First, you can produce the fiber with non-flammable chemicals. You use carbon and non-flammable fibers therein. Second, you get a non-woven cloth with a feature of less non-flammability and you may inject a non-flammability liquid into it. By that way, we produce firebreak products."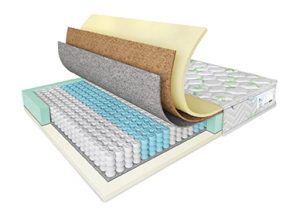 How many felt layers are enough?
This depends on whether you use latex padded slats or bare slats. With latex padded slats, stacking 4 to 6 bed felt layers is recommended. With bare slats, it would be better with 8-10 bed felts. More can be added if needed.
The top felt is the protection layer. It requires more care, especially when sleeping right on the felt with no sheet.  Little woolen pilings begin to form wherever your body is directly moving/rubbing against the wool. The pilings can easily be picked off while sitting on them. It makes for good contemplation time.
Multiple felts for layered mattress
To produce a layered felt mattress, simply stack the felts on top of each other. Side lacing helps reduce possible slippage between felts but is not absolutely needed. Some people prefer no lacing because of the ease of removing layers for travel, or for seasonal sunning and airing.