Aiming to be the most reliable spring systems supplier in the world, Metal Matris is among the top 3 companies in the world with a daily production capacity of 385 tons. 
Mteal Matris is the main supplier of mattress brands that produce globally in 5 continents of the world. We asked the foreign trade chief Aytekin Maraşlı about the success story of the Kayseri-based company.
Could you tell us about the establishment and foundation stones of your company? 
As Metal Matris Inc., we operate in two locations in Kayseri and İzmir in the fields of production of high carbon wire, Bonell spring and pocket spring for the mattress and furniture sectors. Our company is under the roof of Demiryaka Holding and since 1989, it has been a pioneering organization that guides the sector with its knowledge and understanding of quality acquired in line with the demands of the sector with the slogan "We transform steel into comfort". Our company contributes significantly to the economy and employment of the country with a turnover of TRL 3.7 billion as Hasçelik Kablo, Hasçelik Halat, Coreal, Fiber Optik and Metal Matris A.Ş. within Demiryaka Holding.
Could you furnish us with information about your production capacity, product portfolio and usage areas?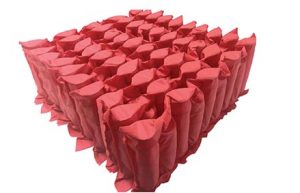 Our production portfolio includes 5 products: steel wire, bonnel spring, pocket spring, Loosse Bonnel and frame. Our total daily production capacity in steel wire is 385 tons and we have the ability to produce from 1.10 mm to 4.90 mm.
Bonnel spring: Our daily production capacity is 3.2 million springs. In terms of features, we produce between 9 cm – 11 cm in 4-turn, 12.5 cm – 15 cm in 5-turn, and 16 cm – 17.5 cm in 6-turn. Wire diameters are between 2.00 mm and 2.50 mm. As for packaging, we can offer our customers 2 options in the form of Rollpack or Flatpack.
Pocket spring: Our daily production capacity is 2.8 million springs. The products we produce in pocket spring in line with customer demands and requests are height low, hourglass, pocket spring with 2 or 4 sides supported edges, nested or zoned products.
Loosse Bonnell: Our daily production capacity is 500 thousand springs. We have the ability to produce 4-5-6 turns and wire diameters between minimum 2.00 mm and maximum 2.50 mm.
Frame: Daily production is 7,500 pieces. Our production range is between 3.50 mm and 4.88 mm.
What are your most demanded products? 
We mostly receive demands for Bonnel Spring and Pocket Spring.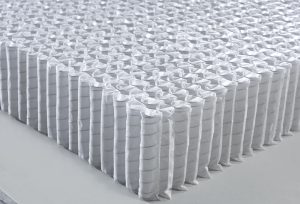 What are the main features that make your products stand out in the industry? 
When we evaluate the feedbacks received from our customers, I can say that the most important feature that makes us stand out in the sector is quality. We make long-term raw material supply connections to maintain Metal Matris quality and ensure it without compromising our standard. At the same time, we make it easier for our customers to make procurement plans, although compliance with the deadlines we offer to our customers is important for our production efficiency.
Which countries do you export to? What are your 2021 goals for export?
The main goal of Metal Matris is becoming a leader in its sector and to be more dominate in the regional markets. In total, we export to nearly 70 countries. With our new investment, we target to grow by 25% in our export figures in 2021. After determining that our customers are in tough times for supplying of materials especially during the epidemic period, we plan to quickly meet the needs of our existing customers by making a very fast investment decision. We want to expand our customer portfolio by reaching new customers.
How was the year 2020 for you? Can you evaluate it in terms of sales and exports? 
In 2020, we achieved a 30% growth in exports. Especially with the Covid-19 outbreak, significant changes have occurred in the furniture industry in the world. The most prominent feature of European, American and Middle East market is a shift in demand from China to Turkey. That's why many companies have decided to invest in Turkey. I think we have taken all these measures on time. Our fast action has made a positive contribution to our growth. If we look at the negative aspects of the epidemic on trade, some companies in particular have had difficulties in sourcing materials and finding enough empty container equipment. Nevertheless, we have always made long-term planning and warned all our customers early against these negative situations. We have always been prepared for this negative situation by planning our production and loading plans in the long term.
Anything would you like to highlight?
We have seen how countries and companies are unprepared against to pandemics. It is very important to take important lessons from this epidemic. We should always remember that such epidemics could outbreak any time in the future and we need to take our measures accordingly.
We have noticed that making long term plans about production, material and logistics issues are very important for the furniture industry. I can recommend everyone to plan accordingly.