As a family-owned company in the third generation, the German-based AGRO International, one of the world's leading manufacturers of high-quality innersprings for the mattress and upholstery industry, strongly adheres to the principle of sustainability.
"We see ourselves as a pioneer, also in terms of green thinking in our business", CEO Dominik Meyer says. Thirty years ago, the possibility to install a railway siding track was one of the reasons to choose today's production site. For more than twenty years, AGRO closely works together with a local recycling company. The first steps in terms of green initiatives … a lot more were to follow.
At product level, AGRO's excellent product quality is the foundation. Approved durability over the entire life cycle allows for effective resource protection. The selected raw material includes sustainable steel wire, produced in the AGRO Group's own wire plant that is specialized not only in high quality materials, but also in environmentally friendly processing such as mechanical descaling. Product development at AGRO strongly focuses on aspects of sustainability such as unique materials that deliver both superior innerspring performance and circular capabilities.
At the production process and logistics / mobility level, the optimization of energy efficiency, the reduction of CO2 emissions as well as strict waste management and recycling are key issues.
With regard to energy efficiency, AGRO uses amongst others internally developed state-of-the-art production machinery with probably the best efficiency available on the market as well as a future-oriented heating system based on heat recovery.
Transport and mobility include the aforementioned railway siding track, which allows for delivery of wire rod by train, but also minimizing distances. In addition, AGRO relies on e-mobility in its vehicle fleet with currently eight charging points on the company's site.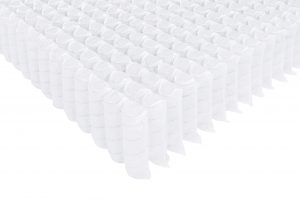 And: AGRO also takes responsibility for its waste. Waste management includes an own recycling machine that shreds and separates those innersprings that do not meet AGRO's high quality standards. In addition, 30 different types of waste are collected separately and mainly re-used or recycled. Recycling takes place in close cooperation with a local recycling company – and recycling processes are constantly being improved.
All of this is recognized by numerous external certifications, amongst others the DIN certification for quality management, energy management, as well as environmental management.
AGRO is propelling forward sustainability in its business in order to make a difference. There are many reasons to connect with AGRO. The green ones are just some of them.