Aiming to be a worldwide brand with its product quality and reliability, the company renews its targets day by day
Gemba Makine, which started its operations in 2015, increases its production capacity every year. Gemba has managed to become one of the leading brands in the sector with a constantly change. The company, which educates its employees with the importance they attach to customer satisfaction and informs them on every subject, continues to complete the production process in the best possible way. We talked about the vision and mission of the company with Kazım Sezerkan, owner of Gemba Makine, which wants to be known worldwide.
First of all, could you tell us about the general features of your company?
We are a company that has been following all kinds of needs and producing the most suitable solutions since the first day we were established. Our company founders consist of people who provide support in the establishment, production and consultancy areas of companies that are leaders in the sector. Therefore, the experience gained by our founders in Turkey and around the world aim to provide our customers in mattresses and other furniture sector. Company founder Kazım Sezerkan transfers his experience in business life to the sector with his engineering and MBA education and provides consultancy to many companies. As a result of these studies, we install mattress and base line machines in factories with great care. In addition, we increased the number of our technical equipment and ensured the production of different machines without any problems in order to provide the best service to our customers. Thus, we are making turnkey factory installations.
We do all kinds of work to ensure that our customers are satisfied with us. Our priority is our customers. All of our employees work with this awareness and constantly improve themselves to provide the best service to our customers. Our employees are trained by experts to contribute to their development. We determine every need for our customers from the beginning of the sale. We make economical, high quality and efficient machines and lines. We have dedicated teams to deliver products on time and service quickly. These teams are selected from solution-oriented people who know the machines well, have high technical knowledge and strong human relations.
So, how was the year 2020 for you? I especially want you to talk about the pandemic period. What was the year for you in terms of exports?
I can easily say that we had a good year 2020 despite the pandemic. There was great uncertainty in the early days of the pandemic. Everyone looked hopeless. As the process went on, people relaxed a bit and started planning. Later, we observed that especially our export sales increased. Our export rate has exceeded 70% and we once again understood that this rise is very important for us.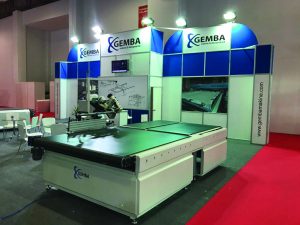 Can I get information about your production capacity and product range?
We produce a completely mattress line and machinery once a month. We continue to increase this capacity at times determined by strategic planning. We have many machines that make up our product range. These machines can be expressed as follows; attack production machines (quilting, cover dressing, pillowcase, gluing bridges, conveyor belts, cross conveyors, edge closing, tumble conveyors, quality control belts, automatic packaging-press, stacking and rollpack machines.
In addition, ı would like to give more comprehensive information about our product range. Home textile machines (Cushion filling, pillow case sewing automat), for spring production (Automatic-semi-automatic spring winding, coil spring opening, spring pressing, spring wedge fitting, spring exhausting, spring conveyor belts, spring conveyor belt conveyors and spiral crushing machines ), plinth production machines (Production conveyor, sizing, quality control band, turning band, packaging and shrink machine, stacking machine), seat, sofa production (Conveyor belts, lift-angle production tables, transport suspension conveyors, elastic column pulling, nailing, drilling, etc. machines), panel furniture (CNC Drilling, sizing, edge banding, stacking machines), foam production machines (Granur foam complete production line, foam automatic vertical cutting, automatic horizontal cutting, clipping, block foam intelligent stock shelves, block foam transport and alignment conveyors, foam automatic packaging-pressing-roll winding machines) and special machine manufacturing (machine designs and production with special projects according to need). These products make up our production diversity.
You have a large variety of products. So, what are your most demanded products among these varieties?
The most demanded among our products are as follows; automatic mattress production and packaging machines, foam production machines (circular-vertical-horizontal cutting and foam roll machines), packaging machines (shrink machine, stretch winding-nylon winding and roll machines).
I also want to learn the main reasons that make your products different in the sector. How would you express this situation?
The most important factor that makes our products different from other products is that the most important factor which differs our products from others is that we care for customer satisfaction very much and we develop the best products for our business partners. On the other hand, since we are a company that constantly follows developments, we do improvement studies on our products. We take additional measures according to new demands and produce machines with the latest features. In addition, we make designs that do not harm the production of companies using our machines. We also provide service support to our customers.
Which countries do you export to and what is your export target for 2021?
We export to many countries. Countries we export to include countries such as USA, Netherlands, Slovenia, Ukraine, Moldova, Bulgaria, Romania and Russia. Our products are in great demand in these countries. We are also happy about this situation. We also have a lot of goals for 2021. As a company, we have a target to increase our exports by 30% every year compared to the previous year. This situation is our strategic goal.
Please say if there are other things you want to emphasize.
With each passing day, the GEMBA brand is known as a company that constantly renews itself. The satisfaction of our customers is our primary goal. Our brand is doing all its efforts to become a world-renowned brand. We move forward rapidly, acting in the spirit of unity and solidarity.