Attaching great importance to teamwork, Nova Sünger takes the opinions of its employees on every issue and benefits from these ideas at every point of the production stage. Nova Sünger, which increases its production capacity and is at a good position in the sector with its R&D process, wants to further strengthen its position in the sector. We talked with Mahmut Oğuzhan, Nova Sünger Export Specialist, about the production stages and their future goals. Saying that they are sparing no efforts to provide quality sleep to their customers, Mahmut Oğuzhan shared his thoughts and goals for the sector with us.
What did you do during the pandemic period? I want to start by asking what kind of opportunities you are making up.
The pandemic period affected us deeply as it did for every company and every individual. We felt the effects of the pandemic period in every sense. We have faced all the difficulties, from sliding consumer habits to problems in the global supply chain. But during this period, we made dynamic decisions and took all the risks that may arise. That's why we got through this period with the least damage. The pandemic period has been an opportunity for us to reconsider our current business strategies as well. Our new investments were already planned, we can say that it was a coincidence that they were finished in this period. We have made additional investments in both the steel part and the foam part. As we had an increase in our production capacity, the increase in demand affected us very positively.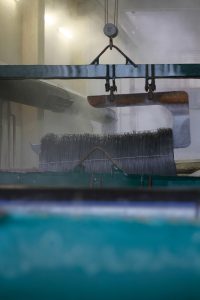 How do you see your place in the industry?
We are a company that develops and follows innovations in the fields of technology, quality and service in the sectors we serve. We don't think of our growth just for ourselves. The benefits we provide to our stakeholders, suppliers, customers and employees and our contributions to the national economy are growing day by day. Our aim is to continue this growth. We also care about issues that concern our future, such as environmental awareness, carbon footprint, and the European Green Consensus. We want to continue to develop and change by increasing our contribution to our country and our industry day by day.
How is your approach to technological developments? Also, do you think the industry needs new products?
The demands and awareness of our customers are changing every day. According to recent researches, 60% of people see a healthy sleep as beneficial exercise or even as equivalent to a diet, that means a lot in fact. You are not only selling a mattress, you are selling also people's concerns of their health . As Nova, we are a company that leads the developments in the sector.
I want to ask specific question to the spring sector. In this sense, do you have a traditional perspective or are you interested in technology in your spring production?
We are always open to innovative products. We are a company that closely follows every development. For this reason, we can always keep up with developments and changes. Most of our products in the spring sector are made with traditional springs. Because of our spring production, you may think that we are a traditional company when you look at it from the outside, but we are a technological company that cares about technical studies at every stage of our production.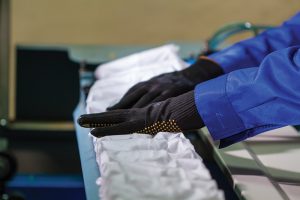 How do you provide raw material supply?
We have a professional team in this regard. Our team follows our supply chains with great care. They pay great attention to every detail. This subject is indispensable for us.
What kind of problems do you encounter in your production area and how do you solve these problems?
Quality is our foremost concern. When our teams encounter any problem in terms of quality, we take our necessary precaution urgently. As a team, we are in constant communication and can discuss any issue. We never compromise on quality. We are aware that everything will be better as long as we maintain our quality.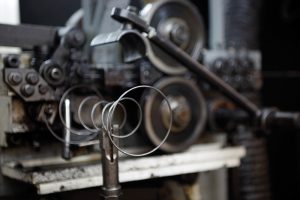 You are a company that does not compromise on quality and works in harmony with your team. Accordingly, what kind of export plan do you have?
Our primary goal in exports is to continue working with our current customers. We are trying to maintain a continuity in this regard. Then, we aim to make new investments by increasing our commercial volume. We intend to share our capacity increase with our current and potential customers. We believe that if we continue to work as a team, we will reach our goals easily.
I would also like to ask you the rate of your exports in your total sales.
We try to manage our domestic sales and export sales in a balanced way.
You are one of the founding members of the IBIA. Finally, what do you think about the association and what kind of benefits do you think the establishment of the association provides to the sector? The International Bed Industry Association (IBIA) will add great dynamism to the industry.. I think it will make a great contribution to the sector in every sense. We will follow our association's contributions to the sector with great pleasure.