IBIA EXPO wind blows in Istanbul
*IBIA EXPO, which brings together the global mattress industry in Istanbul and organized for the second time, opened its doors to its visitors.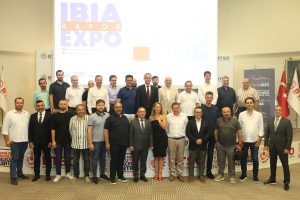 Organized in partnership with IBIA (International Bedding Industry Association) and BİFAŞ (Birleşik Fuar Yapım A.Ş.), IBIA EXPO, for the second time this year, brings together mattress professionals and investors from Turkiye and around the world.
Held on September 28-October 1, the fair is mostly attended by Turkish exporter companies in addition to exhibitors from countries such as China, India, Korea, where the mattress sub-industry is developing, and Middle East countries are also present at the fair to welcome their visitors. IBIA EXPO, which aims to appeal to investors with relatively more costly access such as America and the Far East and high welfare levels such as Europe, is of great importance for the sector players.
Due to the visa crisis in Europe and the USA and the Russia-Ukraine war, Turkiye is taking firm steps towards becoming a center of attraction for foreign investors. IBIA, one of the basic building blocks of the mattress industry, which has an undeniable contribution to Turkiye's annual export and growth rates and has a target of bringing 3 billion dollars in foreign currency to the country by the end of this year, continues to be a unifying force for the industry. Bringing together the large and small companies of Turkiye's mattress sub-industry under the same association, IBIA has been bringing these companies together at the same fair for two years. More than 30,000 visitors are expected to visit the fair this year, where both solidarity and competition are very much felt.
What happened last year?
Last year, IBIA EXPO, which opened its doors to its visitors at the Istanbul Expo Center between 06 – 09 October 2022 with the cooperation of IBIA and BİFAŞ, hosted over 22 thousand visitors from 91 countries and 320 cities, special procurement delegations and professionals from 10 target countries, and the latest technologies and innovative products were on display.
"We receive intense participation requests from abroad"
Making a comparison between last year's fair and this year's fair and talking about the innovations made, IBIA President Osman Güler said, "The positive echoes of last year's fair increased the demand for participation in this year's fair. Last year, we added one more hall to the net 15 thousand square meter exhibition area consisting of three halls and increased it to four halls and a total of 20 thousand square meters. Almost all companies supplying the bedding industry in Turkey have requested participation, with a very small number abstaining due to the lack of sufficient m2. This year, there are intense participation requests from abroad, but since we gave priority to our own members, we did not have the opportunity to respond to the demands sufficiently. In 2022, the fair hosted over 22 thousand domestic and foreign buyers from 91 countries. This year, with the participation of more than 300 brands on an area of 35 thousand m2, it will offer a meeting platform for leading manufacturer brands by creating a business network within the scope of B2B meetings."