Hot melt adhesives market demand is set to surpass USD 10.85 billion by 2026; according to a new research report by Global Market Insights, Inc.
The hot melt adhesives market is expected to record significant gains from 2019 to 2026 owing to the growing demand for high performance adhesives from various industries such as packaging, textile, mattress and automotive. HMAs offer high resistance to water & moisture, provide superior wetting & adhesion properties, reduce environmental impact and are solvent-free.
Traditional glues require longer time for drying while hot melt adhesives significantly cut down the drying time and provide a durable adhesion to the end use product. Rising investments on research & development of innovative adhesives for use in various industrial sectors is further expected to escalate the market growth.
Styrenic block copolymers offer high durability, are lightweight and show effective compatibility with other polymers which are the key attributes augmenting hot melt adhesives market growth. SBC shows similar properties to that of rubber which has further increased its usage in footwear industry. The copolymer offers superior adhesive formulations owing to its easy flow at processing temperatures which reduces dependence on high VOC plastics.
Growing environmental concerns owing to significant rise in carbon footprint has increased government regulations on use of various polymers such as PVC. This has shifted inclination towards the use of low VOC polymers which is expected to have a positive impact on the market demand.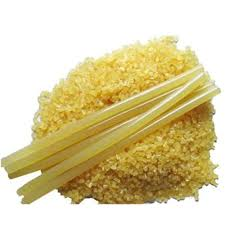 Furniture application segment to strengthen hot melt adhesives market
Rising consumer spending on home décor has significantly surged the demand for quality luxury furniture. Global market value of furniture amounted over at USD 540 billion in 2018 which shows huge opportunities for HMA market growth. Changing consumer outlook towards the use of high-performance plastics in various furniture applications has enabled manufacturers to develop sustainable solutions from the industry.
Hot melts provide effective cohesive strength, durable bonding, lightweight characteristics and are economically feasible in comparison to other furniture materials. Development of new residential & commercial buildings has further boosted the consumption of modern furniture which shows favorable circumstances for hot melt adhesives market growth.
Hot melt adhesives are formulated in several furniture applications owing to its superior hot tack, permeability and ability to operate under high temperature which significantly helps in achieving high level adhesion for a longer duration with fast setting time. The product provides several benefits over solvent based adhesives in various industrial environments. Solvent based adhesives lose about 50-70% of layer thickness during drying while HMAs offer high thickness during solidifying, extend shelf life and can be disposed without special precautions.
Packaging industry growth in North America to escalate HMA's demand
North America packaging market is expected to record gains at over 5.5% up to 2025. Switching from conventional solvent based adhesives owing to its hazardous effects has enhanced the consumption of eco-friendly adhesives. Stringent government regulations to reduce rising carbon emissions is further expected to have a positive impact on hot melt adhesives market demand.
Adhesives form a vital part of packaging applications as they provide superior mechanical strength and printability to the final product. Increasing manufacturing operations in the region owing to the presence of several manufacturers is expected to contribute positively to HMA market growth.
Adoption of packaged products in food & beverage, cosmetics and pharmaceutical applications has surged the demand for high quality packaging which helps maintaining the product quality. Demand for safe adhesives which offer extended shelf life and high temperature resistance is on rise which is expected to have a positive impact on the market growth.
Some of the key players in hot melt adhesives market share include H.B. Fuller, 3M, Dow Consumer Solutions, Bostik, Inc. and Huntsman Corp. The companies are concentrating towards new product development to improve their product portfolio. Manufacturers are also indulged in joint ventures and collaborations to deliver new innovations & creativity in hot melt adhesives.
#hotmelt, #sleeptech, #tech, #Packagingindustry, #Styrenicblockcopolymers, #mattress, #Traditional, #adhesives,