Establis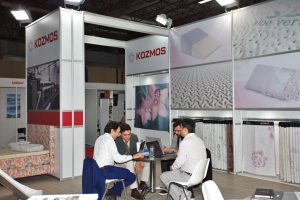 hed in İstanbul in2011 when e-commerce sector recorded its rising trend for the first time, and ever expanding its customer base in the industry with offices opened in Boston Kozmos company, exhibited its new products in the sleep products industry in Sleep Well Expo, which is first and the only mattress fair in Turkey.
Selling to the most leading platforms in e-commerce, such as Amazon.com, Amazon.it, Amazon.fr, Amazon.es, Bed Bath and Beyond, Wayfair, Real and Walmart, Kozmos company's exports are on the rise and processing hundreds of thousands of textile patterns. The company continuously improves its quality and brands in home textiles and aims to expand its base in the markets in America and Europe.
Technology manager of Kozmas Omer Karisman, says, "Our product that comes to mind when we talk about Kosmos is knitted fabrics. We wanted to highlight more of our processed products at the fair. We produce mattress covers using our own fabrics. This year we prepared more samples for the fair and exhibited the wrapped and finished beds. Apart from the fabrics and finished bed covers, our other sleeping products such as pique and bed linen attracted attention in the fair."
Evaluating the state of the mattress industry in 2019, Karisman said, "2019 is a fast year for us. We started to invest in bed and sleep products in our factory which we established two years ago in Bursa. This is our second fair experience and we expect positive feedback from our customers."
Stating that South America preferred Turkish products in the bedding sector, Karisman said that the R&D activities were continuing with market researches and that they produced 100% waterproof alezes which are not new in the market but are sought after in countries which have the highest security standards such as England.
#sleeptech, #sleepwellexpo, #mattress, #kozmos, #tekstil, #industry, #newproducts, #2019, #knittedfabrics