* Optimized site planning with improved planning certainty: Applications for interzum 2021 and interzum 2023 possible as of now
The next interzum, the world's leading trade fair for furniture production and interior design, will take place from 4 to 7 May 2021 on the fairgrounds in Cologne. Like in 2019, halls 3 to 11 are at the ready. These will be supplemented by the modern exhibition hall 1 Plus, which will come into operation shortly before. It expands the intensively in demand "Materials & Nature" exhibition area and enables site planning that is on the whole optimised. Even more improvements are in progress. Thus, exhibitors can already apply now for both interzum 2021 and for interzum 2023, which takes place from 9 to 12 May 2023. This increases planning certainty for all exhibitors, significantly accelerates trade fair planning and thus provides exhibitors with more time for the long-term planning of their exhibition participation. The application phases for interzum 2021 and 2023 start today on 9 January in the context of the international furniture trade fair imm cologne 2020.
One thing is clear since the last event in 2019: interzum will continue to write its impressive success story in 2021 and beyond. It is especially gratifying that, irrespective of the notably high demand for stands, an ever-increasing number of exhibitor wishes can be better served. This has good reasons, as the interzum team has prepared several improvements.
It is thus possible for the first time to apply in a binding fashion for the subsequent event in 2023 when applying for interzum 2021. This possibility provides all exhibitors with improved transparency and allows them significantly increased planning certainty. This is because the planning of the halls can be accelerated for the trade fair team, which enables exhibitors to undertake longer term preparations for their individual trade fair planning and stand concepts.
The end of the 1st early bird for interzum 2021, which is delayed by one month, and thus ends on 30 April 2020, aims in the same direction. This will also help accelerate planning processes, so that interzum exhibitors will have concrete stand offers in their hands much earlier and can prepare accordingly over the longer term.
Application for interzum 2021 and interzum 2023 takes place exclusively online for the first time. Koelnmesse has provided corresponding links at www.interzum.com. In this way, exhibitors will find it even easier to apply for participation in the world's leading trade fair for furniture production and interior design.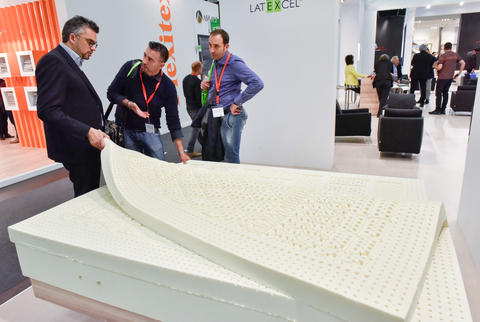 With a view to more satisfied visitors, and thus directly to the advantage of exhibitors, hall planning for interzum 2021 will be streamlined, concentrated and expanded by the new building of hall 1 Plus. The optimization of site planning means the bundling of the "Materials & Nature" focus in halls 4.2, 5.2 and 6. These are complemented by the just named, column-free and generously dimensioned hall 1 Plus, which opens its doors to the trade public for the first time a few weeks prior on the occasion of Living Kitchen 2021. The "Function & Components" section is focused in halls 3.2, 5.1, 7, 8 and 10.2, while "Textile & Machinery" will be found in halls 9, 10.1, 11.1 and 11.2.
"We are bringing the three trade fair segments even closer together spatially. The sense of this site and hall optimization lies in visitors being able to more quickly and easily find the trade fair stands or exhibitors they wish to visit. This is because shorter routes mean more time for interzum visitors to engage in conversations with exhibitors and to evaluate the presentations, more satisfaction and concentration and ultimately better business, orders or "closings", according to Maik Fischer, Director of interzum.
The enquiry as to the supplied industry branches and market segments newly introduced into the application documents of the exhibitors also primarily serves the purpose of improved visit planning. Documented in the subsequent online exhibitor catalogue, it is then easy for visitors to recognize which exhibitors are relevant for them and where discussions or negotiations are especially promising.
Parallel with the application start for interzum and thus a few weeks prior to this year's event in February 2020, the application phase for ZOW 2022 in Bad Salzuflen is already starting for imm cologne 2020. With attractive basic conditions, the booking of this supplier trade fair for the furniture industry and interior design is possible as a package together with applications for interzum 2021 and 2023. In this way, the Koelnmesse team addresses a wish for bundling often expressed by exhibitors and anticipates that this will have a favorable effect on the development of the workshop trade fair ZOW, which is oriented to one of the world's largest furniture clusters.