The fair, which brings together the leading companies of the sector, meets with the participants on May 4-7 with its technological materials and original designs.
Founded in 1959, Interzum Fair hosts leading companies in the sector as an international trade fair. Major industrial organizations such as interior decoration, furniture industry, home decoration, services, trade, profession, production, manufacturing, processing show interest in the fair. Being a source of inspiration for entrepreneurs, designers and architects, Interzum Fair presents original designs, technological equipment and innovative ideas to the participants. We received information from Interzum Vice President Matthias Pollmann about the effects of the pandemic on the Interzum Fair and the general features of the fair.
Due to the development of the pandemic, you have decided to hold the Interzum purely
digital. What can visitors to Interzum@home expect?
Our exhibitors needed planning security. Due to the continuing dynamic development of the pandemic, we have decided, in close consultation with the industry, to hold the interzum purely digitally. As an exclusively digital interzum @home, it allows our visitors to experience trade fairs in a completely new way and at the same time offers them many of the advantages they are used to: Exchange and networking with industry experts, concrete business leads, diverse inspiration from the future makers and trendsetters of the industry. And all this at exactly the right time when manufacturers are in need of impulses for a new design season.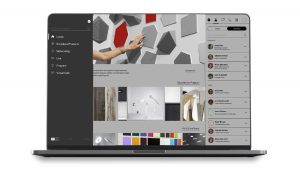 How much is the visitor structure likely to change as a result of virtuality?
That is difficult to predict. Particularly on the basis of the visitor potential data we explained earlier, we expect to be able to motivate many of the regular interzum visitors to attend interzum @home again. And thanks to the accompanying online and offline advertising activities in many countries, we will probably also be able to welcome more virtual visitors from the so-called "second tier", who would not have made the journey to Cologne in person. How these "new" visitors will then be distributed across functions, countries and companies remains to be seen.
How many exhibitors will present themselves at interzum @home?
We are still in the middle of the sales process. This is where the decisive advantage of a virtual trade fair becomes apparent: Companies can decide to participate in the fair at short notice, because time-consuming things like stand construction are no longer necessary. However, we also know that it is a challenge for many companies to produce appealing digital content. As we speak, we can already look forward to a good number of registrations, which already cover a wide range of interzum exhibitors and will continue to grow until 4 May. We currently have, among others, well-known exhibitors such as Hettich, Häfele, Blum, Vauth-Sagel, Grass, Kesseböhmer, Schüco Alu Competence, Titus, Samet, Rehau, Hawa Sliding Solutions, Hailo, Agoform, Formenti e Giovenzana, Sugatsune, Mesan, Servetto, Elek-tra, Halemeier, Schattdecor, Impress, Surteco, Continental, Unilin, Fantoni, Sonae Arauco, Grupo Alvic, Senosan, 3B, Europlac, the American Hardwood Council, Leggett & Platt Inter-national Bedding, Global Systems Group, Spühl, Masias, Fecken-Kirfel, Albrecht Bäumer, Vita Group and Boyteks. We also have group holdings such as that of the US state of North Carolina. However, we still know of some companies and group participations that are currently producing digital content at full speed so that they still want to participate in interzum @home. As I said, the final list of participating companies will probably not be known until shortly before the event.
Opportunities for product presentation at interzum @home include the digital exhibitor showroom, the Product Stage, Round Tables and Virtual Cafés. How do these tools work exactly?
In the last few weeks, we have given a very comprehensive introduction to exhibitors in many live demonstration webinars. In addition, we have published various video tutorials on our website, which also explain very well how the interzum @home platform works. We have set all this up as support offers, but I am nevertheless convinced that our platform is so user-friendly and intuitive that it does not require extensive training for the vast majority of users. And with a longer onboarding phase for exhibitors and a soft opening for visitors, we are also offering all participants the opportunity to familiarise themselves sufficiently with the platform.
What other innovative features does interzum @home offer?
You have already listed the central features. But I personally would like to mention the "Discovery Graph" because I think it is very innovative and unique. The Discovery Graph suggests potential contacts to the user, whether exhibitor or visitor, based on an algorithm that uses product interests that every user can and should maintain in their personal profile. In a very clear presentation, the people with whom there is a high interest fit are then suggested to each user. In my opinion, this is a very helpful feature, especially for the identification of potential customers or suppliers, because in this way.