Desiring to be at the top in every point of production with its 60 years of experience, the company aims to be the number one brand in the world.
Aydın Tekstil, which entered the textile sector with woolen fabric production in 1957, started to serve in the furniture sector with upholstery fabric in 1980. The company, that made its first export in 1985, has taken very important steps towards becoming a world brand. Following the fashion and bringing new products to its customers instantly, Aydın Tekstil offers unique designs to all business points by combining its pattern archive and color varieties with R&D and innovation. The company has been working with a growth and export strategy since its establishment and continues to be one of the largest suppliers in the world by selling to more than 90 countries. We talked about the vision and mission of the company with Uğur Özalp, Regional Sales Manager of Aydın Tekstil, which has proven its quality in its production areas.
What was the year 2020 like for you? I want to hear your views on this matter.
The year 2020 started with new hopes, new targets and new plans, just like every year. However, the pandemic period affected us all, sometimes positively and sometimes negatively, but everyone felt this process deeply. The data and trends we have accumulated from CRM studies and used to make predictions in the business world, suddenly became meaningless. We had a unpredictable year, with unstable demands on both sales and procurement. Despite the pandemic conditions, we overcame this imbalanced process in the most profitable way with our experienced and young human resources, integrated production facilities and strong capital structure.
I would like to get information about your usage areas, production capacity and product range.
Our production capacity is 3 million meters per month in the form of weaving and knitting. Knitted mattress fabric and woven mattress fabric are the basis of our product range. These two types of fabrics can be grouped as fabrics used for bed base and for the mattress surface. We are a customer-oriented company. For this reason, we operate in an innovative way in the market with features such as hygiene, cleanliness, health, naturalness and sustainability according to the structure of the fabrics. Our products are primarily used for mattresses. In addition, we produce for mattress covers, bed bases, pillows, quilts and home textile products.
What is your most demanded product among your products?
We sell products to a wide geography around the world. Therefore, our products are demanded in different ways according to the regions. More vivid colors and intense patterns are preferred in some regions, while plain and white-gray tones are preferred in some regions. More special products are also requested in some countries, depending on the income levels and purchasing habits of the citizens. Also we have to have a more flexible pricing approach in some regions. Our aim is to bring unique designs and innovative products to our customers in every region and bring them together with value-added products. Our most demanded products are generally the most original.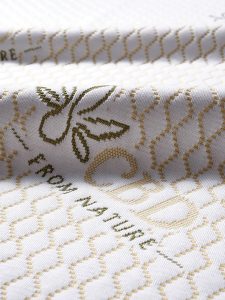 We know that you are open to innovative products. In this sense, what kind of R&D and innovation processes do you have? Do you think the industry needs more different products?
We attach great importance to innovation. Because we believe that investing in innovation is a guarantee for our future. That's why we work non-stop with a large team in our R&D center in our factory. Thanks to our integrated production facilities, we can act quickly and easily. Thus, we are working on products that will benefit human life and provide a more natural sleep environment that will make our world cleaner. The industry will need different products in the future as it is today, because we think that innovation and development have no end. Not every different product can find a place in the market, but every new product is a very important step in the journey of progress. We strive to take these steps firmly.
How do you supply raw materials?
If the raw material we need is suitable for production in our own production facilities, we supply it from our own integrated sources. If it is not suitable, we have raw material suppliers that we have been working with for many years both in our country and abroad. We do not have any problems with raw materials by making long-term agreements with the companies we trust to supply the best quality raw materials on time.
Your products have a very different and high quality position in the sector. What is the most important factor that makes your products different? I would like to hear your views on this matter.
All of our products are produced with a quality management system. We desire to achieve the perfect at every stage and we are in constant development  with the Kaizen philosophy. On the other hand, we are getting stronger with our independent and original design team who not only follow today's trends but also try to shape trends. After all these researches, we reached a different structure than other companies with our quality designs and R&D processes.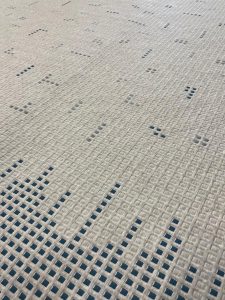 Which countries do you export to and what is your export target for 2021? Also, what is the ratio of your exports to your total sales?
We export to more than 60 countries from England to the United States of America, from Argentina to Tunisia, from India to Russia. Of course, we are reaching many more countries indirectly. We are planning to exceed 50 million USD in 2021 in our factory in Kayseri, which started operations in 2019. Our exports constitute approximately 80% of our total sales. We aim to maintain this rate.
You are a brand that achieves your goals. Do you have a purpose to become the biggest brand in the world? I wonder what you think about this.
As Aydın Upholstery Fabric, we have achieved many successes. We want to achieve similar success as Aydın Mattress Fabric. It is our basic philosophy to keep sustainable customer satisfaction at the highest level worldwide. We aim to be the biggest brand in the world with our production capacity by continuing our works in the best way.