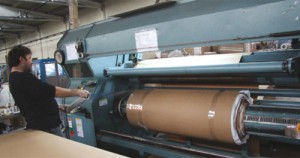 Having one ton wire drawing capacity in its factory of 35 thousand sqm, Iskeceli Yay company proves itself as one of the major companies in pocket spring production.
Besides its Airflow and Air compress products, the company introduced its ne product S-Line to bed manufacturers in Interzum trade fair. Sales manager of the company Turker Ciplak informed about his company and its products.
S-Line technology
We are proud to offer a new product and a new spring technology besides other products of our company. We called this S-Line, as inspired by the ideal form of spine during sleep. S-line minimizes the blood pressure applied on the body by facilitating blood circulation. Earlier, S-shape was formed by using memorial foams. We applied this on our spring systems. This and pocked spring systems provide better and more comfortable sleep.
2 m. dollar investment
We invested in new machinery for this new product, it cost us about 2 million dollars. We keep developing new products and solutions. Our growth will continue by depending on our innovations, investments, knowledge and accumulated expertise of 15 years. We open all our knowledge and information about our business to all of our customers.