Onur Kırayoğlu from Kırayteks stated that they entered 2024 hopeful with the efficiency they achieved at IBIA Expo.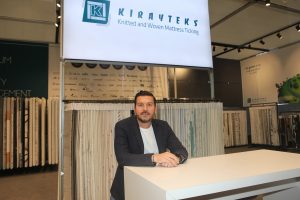 Kırayoğlu made the following comments about IBIA Expo; "As Kırayteks, we have different production segments. We participate in many fairs throughout the year. The majority of these fairs are overseas fairs and we make huge expenditures. In 2024, we will not be at some of the fairs we have participated in before. We are reducing the number of fairs we attend next year. R+T 2024 Stuttgart, which has not been held for 6 years in solar systems and outdoor fabrics, and IBIA Expo 2024 in the mattress sector will be the two main fairs we will attend. There may be a few more fairs. In order to be more effective and to strengthen the IBIA Expo fair, I recommend everyone to selectively participate in fairs and support our own fair, also to our competitors in the sector."
Stating that the predominance of Russian visitors this year is an expected situation, Kırayoğlu added that in case of the possible end of the Russia-Ukraine war, he estimates that much more Russian, Ukrainian and Eastern European visitors will come to IBIA Expo in the next fairs.
Pointing to South America as the target markets, Onur Kırayoğlu said that especially the Colombian fairs in South America can be efficient for the promotion of IBIA EXPO, that the product supplies for the American market are generally made from South American countries with low labor costs, and that he observed that many buyers from the American market visit these fairs. He also stated that strong promotions to be made at these fairs will be very beneficial for IBIA Expo in terms of visitors.
Kırayoğlu announced that they will participate in the 2024 fair with the same size and a brand new booth design and announced that they will continue their show from where they left off.