Nobo Mattress Machinery Co. Ltd. is a Foshan-based company in China. The company has been manufacturing and offering a wide variety of mattress machines especially spring production lines. Below there are some presentations of the firm for prospective buyers.
NOBO-ZDCW-1 Automatic spring bed net production line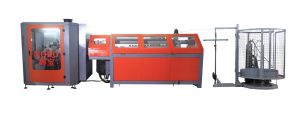 APPLICATIONG &PERFORMANCE:
NOBO-ZDCW-1 AUTOMATIC TRANSFER LINE FOR "BONELL" TYPE INNERSPEING UNITS is latest mode for producing "bonell "type innerspring units directly from wire. Firstly the steel wire is coiled to a spring .and then transferred and inserted to the assembler by the automatic feeding system .After this ,the upper and lower spring are coiled together at the same time and helical wire is coiled ,cut and clamped at both ends automatically. When a unit is finished ,it could be ejected automatically
Technical data:
Spring Type: Bonell
Capacity: 80Sheets/8Hours (1800mm*2000mm)
Max width:2m
Spring Ending Ring: 65-72mm, 75-90mm, 82-92mm
Spring Steel Wire Gauge: 1.9-2.4mm
Height Wire Gauge: 1.3-1.6mm
Spring Height: 80-200mm(<80mm on request)
Convolutions: 4-7 Turns
Total Power: 15KVA
Weight: Net Approx: 5600kg
Power Requirement: 380V, 3 Phase, 50-60HZ (Option: 415V-480V, 220V)
NOBO-FS-60 (AUTOMATIC COILER MACHINE)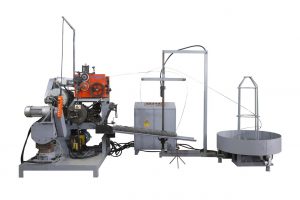 APPLICANTION & PERFORMANCE:
The machine is automatic equipment which specially combines coil and knot spring for soft –furniture. Heat treatment, the whole column output, one –time completion of, it is easy to be operated safeguarded and high productivity low in labor .It is controlled by computer, therefore guaranteed operation of main engine.
Technical data:
Diameter of steel wire: 1.8-2.5mm
Free height of spring: 80-220mm
External diameter of termination ring: 65mm-85mm
Rings of springs: 4-8n
Motor power: 4.5kw
Weight: 1.5T
Productivity: 55pcs/min
Heat treatment power: 15kw
NOBO-GH-80S (DIGTAL SPRING COILING MACHINE)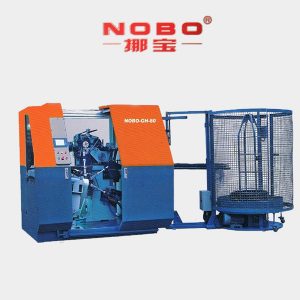 APPLICATIONG & PERFORMANCE:
The STATE-OF-THE-ART DIGITAL SPRING COILING MACHINE produces Bonell springs for mattress to a spring, knotted at both ends, heat treated and to be collected to an outlet channel. The coiler utilizes a fully integrated computerized Programmable Logic Controller(PLC)and Servo control system, also with two CPU and high sensitivity touch screen to reach remote-control support. All machine functions include wire feeding length, heat treatment, lubrication and self-protecting are automatically controlled.
Technical data:
Spring Type: Bone11
Capacity: 80 PCS/MIN
Spring End Ring: 62-75MM, 75-95MM
Steel Wire Gauge: 1.8-2.4MM
Spring Height: 80-190MM(Option:190-210MM)
Convolutions: 4-7Turns
Main Drive Power: 4KVA
Swift Frame Power: 2.2KVA
Heat Treatment: 10KVA
Weight: NET Approx: 2730KG
Power Requirement: 380V,3 Phase,50-60HZ(Option:415V-480V,220V)
NOBO-ZC-4 (Assembling machine)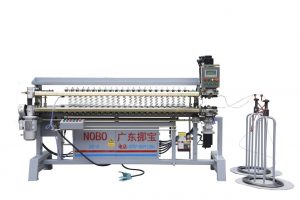 APPLICATIONG & PERFORMANCE:
NOBO-ZC-4 is the specialized assembly equipment of spring bed nets and seat which needs only one person to put on the expected spring so that can achieve up and down at the same time network series.
The machine use the automatic clamping device shutting up ,up and down to achieve synchronization spring schedule string network
If string is in place so it can automatically to cut wire spring clamp shut, expected to push forward bed nets automatically, shut down automatically if happening encountered failures and beep alarm
The size Bed nets can be adjusted. The height can be a free takeoff and landing. The computer will automatically record the number of sheets and set rows
It has the ability of beautiful string of net, relatively tight string net, fast speed to timesaving, high efficient and to reduce labor intensity.
Use line with servomotor, are free to set the width.
Technical data:
Work Efficiency: 50-80 units/8 hours
Maximum width of the bed nets: 2000mm(option2200mm)
Adaption bed nets high: 80-180mm
Spring wire diameter: 2.0-2.4mm
String of spring steel wire diameter: 1.3-1.6mm
Applies to spring-caliber: 58 Fixture Series 55-56mm
68 Fixture Series 65-70mm
78 Fixture Series 65-73mm
88 Fixture Series75-82mm
98 Fixture Series 82-90mm
The total electric power: 4.5KW
Weight of machines: 950kg
Electrical source: 3 phase 380V/50HZ
Figure size: length 3150 x width1730 x high1810mm
NOBO-WB-5 (Level track tape edge machine)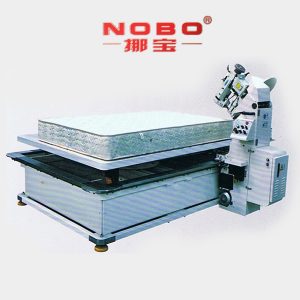 APPLICATIONG & PERFORMANCE:
This machine is mainly used for taping edge fabric of mattress, and an also suitable for sleeping bag tent, ECT.
Advance chain stitch sewing head
Automatic adjusting of table lifting and sewing angle
Convenient operation by electromagnetic clutch controlling
Level track by precise processing for faster steady moving
Technical data:
Overall Size: 2815 x 2415mm (LXW) Rack: 2250 x 1850mm (LXW)
Table: 1600 x 2000mm (LXW)
Mattress Thickness: 50-500mm
Table Automatic Lifting Range: Within 400mm
Sewing Needle Height: 110-1230mm
Sewing Head Auto-Adjusting Angle: 35-55
Sewing Speed Adjusted by Transducer, Max 12m/min
Power Supply: 3-Phase, AC380V, 50Hz
Total Power: 1.5kw
Weight: 1100kg